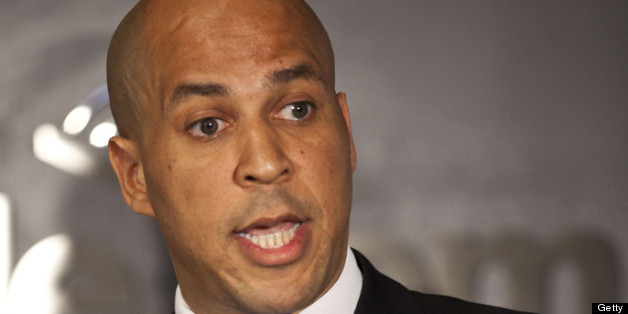 Newark Mayor Cory Booker picked up key backing in his bid for New Jersey's open U.S. Senate seat Wednesday, while one of his Democratic rivals is setting himself up as the anti-Booker.
Booker was endorsed Wednesday by 64 Democratic elected officials in South Jersey, including several of the most powerful Democrats in state government.
Gov. Chris Christie (R) called the Aug. 13 primary and Oct. 16 special election following the death of Sen. Frank Lautenberg (D) earlier this month. Sen. Jeff Chiesa (R) was appointed by Christie to hold the seat until Oct. 16.
The South Jersey backing for Booker is unsurprising since the Newark mayor received support last week from South Jersey Democratic boss George Norcross. Among those endorsing Booker were state Senate President Steve Sweeney (D-West Deptford), Assembly Majority Leader Lou Greenwald (D-Voorhees Township) and Camden County Clerk Joseph Ripa (D), the father of talk show host Kelly Ripa.
Also supporting Booker was Assemblyman Troy Singleton (D-Palmyra), a close ally of Jersey City Mayor-elect Steve Fulop (D), a powerful state Democrat who has remained neutral. Fulop tweeted last week to remind his followers that the Senate candidates, including Booker, did not back him in last month's mayoral race.
At the same time, Rep. Rush Holt, one of three candidates opposing Booker in the Aug. 13 Democratic primary, put out a new video on his website contrasting himself to Booker. Rep. Frank Pallone, a third candidate in the primary, announced his own set of endorsements based largely in his congressional district. State Assembly Speaker Sheila Oliver (D-East Orange) is the fourth candidate in the primary.
Holt used a two-minute video to highlight his work in Congress and discuss his differences from Booker.
"I'll be the first to admit, I'm no Cory Booker," Holt said. "I don't have a million Twitter followers. I've never run into a burning building. I'm not friends with Mark Zuckerburg, though I did 'like' him on Facebook. I'm a teacher, a scientist and my most famous moment was beating the computer on Jeopardy."
Pallone announced backing from 21 Democratic leaders in Middlesex County, including two state senators and Assemblyman John Wisniewski (D-Sayreville), who was state Democratic Party chairman until last week. The endorsement list did not include Democratic gubernatorial nominee Barbara Buono, a Middlesex County state senator, who has not endorsed in the Senate race to date.
Former Bogota Mayor Steve Lonegan and physician Alieta Eck are both seeking the Republican nomination.
BEFORE YOU GO
PHOTO GALLERY
Remembering Sen. Frank Lautenberg (D-N.J.)