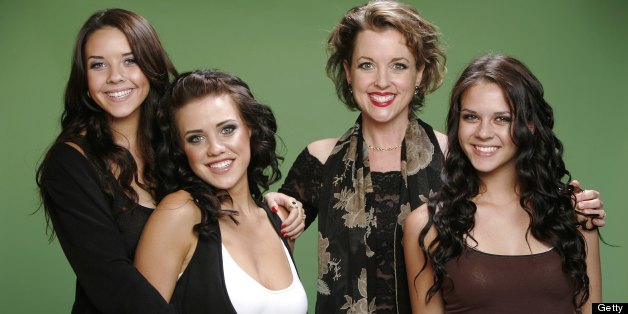 "Pretty Wild" is returning to E! in celebration of "The Bling Ring."
The network will air a marathon of the 2010 reality series that followed Alexis Neiers, Tess Taylor, Gabby Neiers and their mom Andrea Arlington, on Friday, June 21, the same day Sofia Coppola's "The Bling Ring" hits theaters nationwide.
The two-hour "Pretty Wild" marathon will feature episodes that follow Neiers' legal issues in regards to her alleged involvement with the group of teenagers who burglarized homes of celebrities from October 2008 through August 2009. The group reportedly stole $3 million in cash and belongings from figures such as Paris Hilton, Orlando Bloom and Rachel Bilson.
Coppola wrote and directed the film based on Nancy Jo Sales's 2010 Vanity Fair story, "The Suspects Wore Louboutins," the one that prompted one of the most famous moments in reality TV history. (Neiers claimed she wore "four-inch little brown Bebe shoes" to court, not six-inch Louboutins.)
"The Bling Ring" star Emma Watson, whose character Nicki is based on Neiers, said she watched the E! reality series to try and get into character. "I watched 'Pretty Wild' so many times to try and get her into my brain, though," she said. "It gave me anxiety. How do you watch it?"
For more "Pretty Wild" highlights, click here and get ready to see scenes from the series played out almost exactly in "The Bling Ring."
E!'s "Pretty Wild" marathon airs from 1-3 p.m. ET on Friday, June 21.
Below are full description of the four episodes E! will air:
"Pretty Wild: The Arrest" - 1 p.m. ET
Emerging as Hollywood's newest stars, sisters Tess, Alexis and Gabby are ready to take the City of Angels by storm. In the season premiere of "Pretty Wild," sexy sisters Tess and Alexis land a huge modeling gig, but a knock on their door early one morning will change the life of one sister forever.

"Pretty Wild: The Hearing" - 1:30 p.m. ET
With her freedom on the line at a preliminary hearing, Alexis faces charges of allegedly committing a burglary targeting celebrity homes. Meanwhile, Tess is ecstatic when she is invited on a date with a pop superstar and Gabby's world is rocked when Andrea announces that the whole family is making a big move.

"Pretty Wild: Vanity Unfair" - 2 p.m. ET
Alexis gets the opportunity to finally tell her side of the story in an interview in Vanity Fair, but the article doesn't quite turn out the way she expected. At Andrea's suggestion, Gabby goes job hunting and Tess is determined to find out just where her relationship with rocker Max stands after he didn't respond to any of her texts while in Cabo.

"Pretty Wild: And So It Is" - 2:30 p.m. ET
Alexis struggles with the stress of her impending trial and finding out that celebrity superstar, Orlando Bloom will be testifying against her in court. She begins to unravel as she questions her decision to go to trial or take the plea deal. The rest of the family tries to cope, but the court case begins to affect Tess' relationship with Max.
PHOTO GALLERY
'The Bling Ring'
BEFORE YOU GO