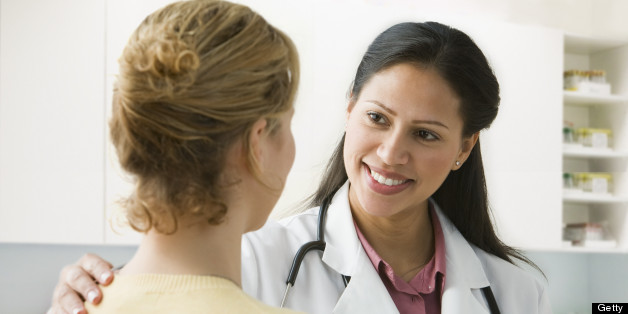 For people living with HIV, strict adherence to appointments and medication regimens is vital to managing their condition and keeping it from progressing to a more severe state. And according to a new study, feeling respected by their doctors is a huge factor in making sure HIV patients keep their doctor appointments.
Researchers at the Johns Hopkins University School of Medicine found that people with HIV were more likely to maintain their regular medical appointments and to be conscientious about taking their medications if they felt their physician was clear, engaging, and knew them as more than just a name on a medical record. Their findings are published in the Journal of Acquired Immune Deficiency Syndromes.
"If people feel their doctor really knows them and listens to them, they feel that doctor has their best interests at heart and may be more likely to follow medical advice," study researcher Dr. Tabor E. Flickinger, M.D., M.P.H., a fellow in the Division of General Internal Medicine at the university, said in a statement.
The researchers examined 1,363 interviews by patients on their doctor-patient relationship quality, as well as medical records at the Moore Clinic for HIV Care at The Johns Hopkins Hospital between December 2004 and June 2009. Researchers found that there was a strong association between patients' perceptions that they had respect from their doctor, and being more likely to not miss appointments. White men who did not use illegal drugs were also the most likely demographic to not miss doctor appointments.
Researchers also got a glimpse of how many patients were keeping their doctor appointments, and what the viral loads were of those patients. Low blood levels of virus, an indication of dedication to antiretroviral therapy, is associated with lower risk of HIV transmission and mutation (which could then spell trouble for managing the virus with antiretroviral medications).
Researchers found that 66 percent of patients in the study were on antiretroviral therapy -- with 49 percent showing suppressed viral loads. An analysis of patient interviews revealed that 72 percent of patients with low levels of virus in their blood maintained their appointments, while only 59 percent of those with unsuppressed levels of virus did.
Researchers noted that this study was different from others looking at risk factors for missed doctor appointments because it didn't look at race, gender and socioeconomic status. However, research has shown that these also seem to play a role in medical regimen adherence. In a study of 178 patients at the Outpatient Adult HIV/AIDS Immunology Clinic at Jackson Memorial Hospital in Miami, researchers found that young age and limited family support correlated with non-attendance at appointments.
"People really respond to personal respect and genuine interest. And our study shows that these behaviors impact treatment," Flickinger said in the statement. "The traditional model of the doctors telling you what to do and you doing it because they are the authority figure doesn't always work anymore."
BEFORE YOU GO
PHOTO GALLERY
10 Important HIV/AIDS Discoveries