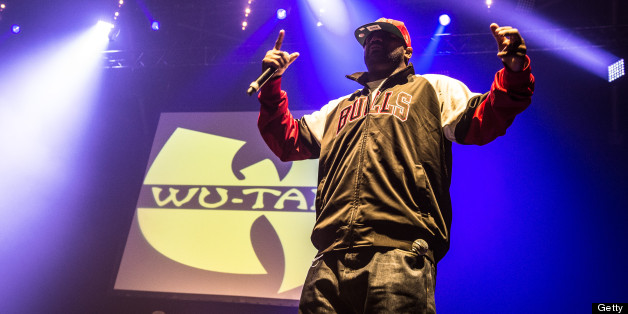 If you weren't expecting any exciting news out of the 2014 race for the New Jersey 5th Congressional District seat in the House of Representatives, well, think again! The Hill's Alexandra Jaffe reports that first-time office-seeker Roy Cho, a Democrat looking to take on incumbent Rep. Scott Garrett (R-N.J.), has won the most exciting endorsement of his young career -- rapper Ghostface Killah.
I need yall to check my man @roycho5 website http://t.co/2o3AwoxuVf & help get him that CONGRESS SEAT pic.twitter.com/RBn1NI4s7W

— Ghostface Killah (@GhostfaceKillah) June 18, 2013
Jersey! I know, I know, I know, I know!
As Jaffe reports, the bond between Ghostface and Cho was forged by Cho's sister, who had "an informal chat" with the Wu Tang Clan member "at a recent party:"
"She just started talking about me as her brother, what I wanted to do, why I wanted to run, and a couple of people there expressed support," including Ghostface, Cho said.

The rapper's manager got in touch with his sister to let her know he wanted to be "helpful" to the campaign, but didn't indicate exactly how or when. Cho said he started following him on Twitter on Wednesday, and hours later he received the tweet.
Ghostface's endorsement is the best news that Cho has received since two weeks ago, when former Rep. Andy Maguire announced that he was dropping out of the 2014 race.
Garrett, who has served in the House since 2003, is perhaps best known for being the only member of New Jersey's congressional delegation to not sign a "letter calling for federal assistance in the wake of superstorm Sandy." After a brief outcry, Garrett "reversed course and signed another." (He had previously authored a measure to allow the National Flood Insurance Program to increase its borrowing limit.) Still, his delayed response to his state's urgent need is perhaps a sign that Garrett ain't been hungry since Supreme Clientele.
[Would you like to follow me on Twitter? Because why not?]

BEFORE YOU GO
PHOTO GALLERY
113th Congress Facts