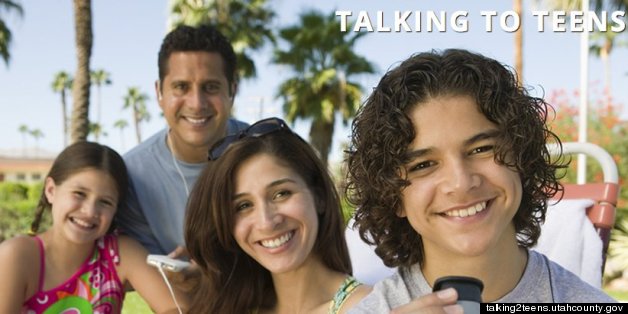 A New Utah County Health Department website encourages parents to talk to their kids about sex, so long as they tell them not to have it.
The abstinence information site, which was funded by a federal grant from Health and Human Services, launched on Tuesday, the Salt Lake Tribune reports. The website, titled Talking 2 Teens, contains no information about birth control and says it serves to help parents "feel confident when you talk to your child about abstinence from sexual activity until after marriage."

The site encourages parents to start talking to kids about love and relationships starting in elementary school. As kids get older, the site tells parents to start talking to their children about refraining from sexual activity.
"Studies show that parents have the greatest influence on their child's sexual behavior –- more than their friends or the media –- but they often avoid talking to their children about sex because it's uncomfortable or they feel unprepared," said county health educator Sofia Ybarra in a statement, according to the Salt Lake Tribune.
Furthermore, while the site does extensively detail each type of Sexually Transmitted Disease, it does not contain information about how or where one can get tested for such.
Utah County, the second largest county in Utah, recorded at least 1,269 teen pregnancies between the years of 2006 and 2011, the newspaper notes.
In recent years, Utah lawmakers have taken steps to push back against the state's sex education system.
In 2011, the Utah House and Senate voted to mandate abstinence-only sex education, barring any instruction about contraception. In March 2012, Gov. Gary Herbert vetoed the bill so that schools could continue to teach about birth control methods, according to Education Week.
As it stands, Utah parents need to be notified and give consent for their children to participate in sex education classes. While law requires the state's sex education to be medically accurate, educators are free to promote religion, according to the Guttmacher Institute.
BEFORE YOU GO
PHOTO GALLERY
Santorum Talks Sex