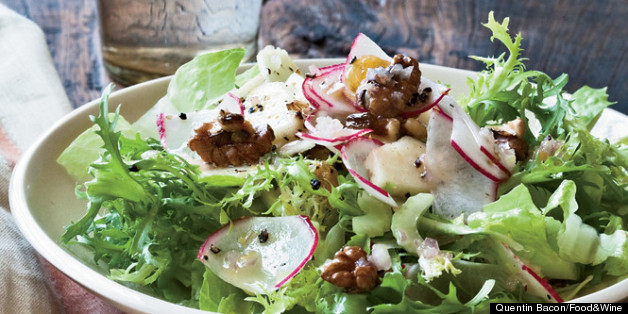 Most Waldorf salad recipes, while delicious, aren't exactly what you'd call light. They're a combination of apples, celery and walnuts held together with a hefty serving of mayonnaise. There's definitely a time and a place for this salad, but in the middle of summer it's not exactly what we're craving. Though when it comes with a lighter twist, a Waldorf salad recipe is exactly what we want.
This Waldorf salad recipe skips the mayonnaise-based dressing and replaces it with a lemony vinaigrette that's flavored with walnut oil. There's also a mix of mineral-rich romaine lettuce, frisée and sliced radishes added to the classic apples, celery and walnuts combination.
Get the Lemony Waldorf Salad recipe
Want to read more from HuffPost Taste? Follow us on Twitter, Facebook, Pinterest and Tumblr.
Get more salad recipes.
PHOTO GALLERY
Salad Recipes