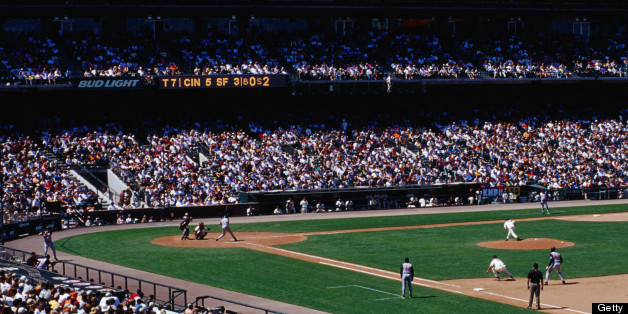 This story comes to us courtesy of SF Weekly.
By Erin Sherbert
It was an exciting night at AT&T Park. Not only did the Giants' Juan Perez hit a tiebreaking single to win the game, but a group of protesters were arrested somewhere between the garlic fries and the beer.
Here's what happened: As we reported yesterday, concession stand employees and their supporters planned a 6 p.m. rally outside the ballpark to protest the ongoing contract dispute with management. Some 400 protesters showed up, and were "peacefully marching" until the game started.
While some of those supporters are fans of fair labor, they're also big fans of the Giants (or at least the garlic fries). About 50 of them broke away from the group, and with purchased tickets, went inside the stadium.
According to Officer Gordon Shyy, that group staged a "sit-down" near section 119, which is right next to the delicious-tasting garlic fries stand. The cops spoke with protest organizers and they understood they were violating AT&T Park/Giants fan code of conduct.
Contrary to popular belief, when anyone buys a ticket to see the Giants play, they're also agreeing to behave (that applies to you, too, Dodger fans). When fans violate that code, they have two options: leave or go to jail.
In this case, 10 of protesters opted for no. 2 and were cited for trespassing. The remaining demonstrators decided to leave the game, Shyy said.
The demonstration was part of the Unite Here Local 2's campaign to get higher wages, job security, and better health benefits under their new labor agreement. The group laments that they have not received a raise since 2010, and on May 25 held a one-day strike at the ballpark.
However, Sam Singer, spokesman for Centerplate, the San Francisco Giants' food and beverage subcontractor, says it values its employees.
"That is why they are already the highest-paid staff in the concession business, earning between $15 and $20 an hour, receiving full healthcare and other benefits for their part time work," he told us.
He added that the company has offered its employees the following:
A 4.5 percent ratification bonus ($500 per employee) for those who worked more than 40 games in 2012
A 1.7 percent annual wage increase on top of the best compensation package in the industry
Increased contribution of 9.2 percent to the Unite Here benefit plans
Employer paid health care for employees and their families
Until some sort of agreement is digested, concession workers are asking you all to bring your own fries and hot dogs to the Giants game.
If anything, it would be cheaper.
BEFORE YOU GO
PHOTO GALLERY
Most Expensive Major League Beer