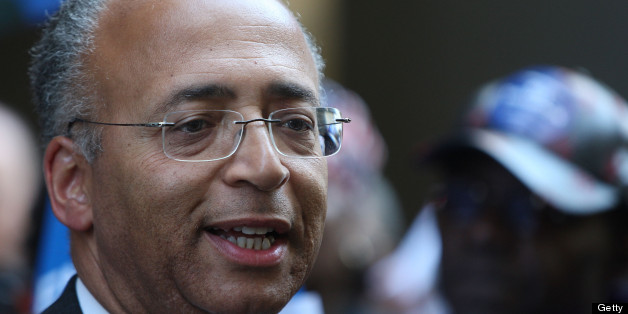 The city teachers union on Wednesday endorsed mayoral candidate Bill Thompson, a Democrat and onetime president of the Board of Education, who came close to defeating Michael Bloomberg in the last race for mayor.
Thompson "will make a great mayor, but also a great partner" for teachers, schoolchildren and parents, said Michael Mulgrew, president of the 200,000-member United Federation of Teachers, as he announced the endorsement at the union's lower Manhattan headquarters.
"We need to make sure that this entire city school system is about helping teachers help children," said Mulgrew, whose union has fought bitterly with Bloomberg over education policy.
Thompson, also a former city comptroller, said, "As mayor, I'm not going to demonize teachers. We've had enough of that."
The union's decision followed a period of aggressive courtship by most of the other Democratic candidates.
The last time the union successfully endorsed a winner for mayor was 1989, when it gave its nod to David Dinkins. It sat out every election since, except for 2001, when it endorsed losers in the primary, primary runoff and general election.
Thompson was the Democratic nominee in 2009. This time around, polls have him in fourth place, behind Council Speaker Christine Quinn, former Rep. Anthony Weiner and Public Advocate Bill de Blasio.
With the UFT now in Thompson's corner, the union is expected to put its resources, including money, get-out-the-vote operations and support services such as polling, behind his candidacy.
The primary is Sept. 10. If no candidate garners at least 40 percent of the vote, the top two vote-getters will face each other in a runoff.
Mulgrew told Newsday earlier this month that he doesn't plan to endorse any other candidates if the union's selection fails to win the primary this time.
Weiner, asked earlier Wednesday how much union endorsements such as the UFT's matter, invoked his own mother: "I've been endorsed by Frances Weiner, 31-year veteran and a member of the UFT. I think her vote is fairly firm." ___
BEFORE YOU GO
PHOTO GALLERY
2013 NYC Mayoral Candidates