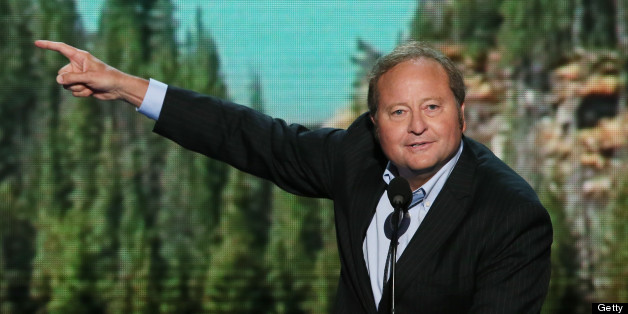 Former Montana Gov. Brian Schweitzer (D) is being pretty coy about it, but it's generally understood that he is mulling a run for the Senate seat currently occupied by the soon-to-retire Democratic Sen. Max Baucus. Of course, Schweitzer is going to have to first make peace with the fact that he'd be leaving Big Sky Country for the Beltway. How's he managing that? Well, it depends on what you read.
For instance, in a conversation with Roll Call's Kyle Trygstad, Schweitzer seems to be taking to the prospect of a move to DC like a duck to acid:
RC: Well, the Billings Gazette story over the weekend said you're trying to get here, for work at least.

BS: They didn't say that. They said maybe.

RC: Is that accurate?

BS: Maybe?

RC: Maybe you're looking into it, or maybe you want to run?

BS: Maybe I'm looking at it.

RC: So what are you doing to maybe look at it? It said you were in D.C. — were you meeting here with potential supporters?

BS: Oh, I was having a look around to see how bad it would be to live there. And I concluded it was really bad to live there — traffic is bad, weather is worse. Most of the people you talk to are frauds. You know.
Elsewhere, Schweitzer says of Washington's Georgetown neighborhood, "God, that place sucks."
Well, look, D.C.'s terrible traffic and summertime weather really can not be defended. And let's just say that I choose to not offer a defense of Georgetown at this time. But the fact that "most of the people" that Schweitzer talks to in D.C. are "frauds," has less to do with Washington, D.C. as a city, and more to do with the fact that Schweitzer makes the affirmative choice to participate in politics, and that is why he spends most of his time talking to frauds.
Of course, it's an open question whether or not Schweitzer really regrets talking to all those frauds, because a lot of them can really help a person out with a Senate race that they're maybe possibly (probably) mulling. And, as Trygstad reported in an earlier piece, "Schweitzer's campaign planning has included extending olive branches to a Baucus political apparatus he'll likely need."
And what an apparatus that is! If there's one thing that Max Baucus is known for, it's running the most frictionless revolving door between Capitol Hill and K Street in town. Baucus pretty much runs the best health care industry influence-peddling racket in America, but the extent to which he's populated the city with dead-eyed lobbyists hardly ends there. Per The New York Times:
No other lawmaker on Capitol Hill has such a sizable constellation of former aides working as tax lobbyists, representing blue-chip clients that include telecommunications businesses, oil companies, retailers and financial firms, according to an analysis by LegiStorm, an online database that tracks Congressional staff members and lobbying. At least 28 aides who have worked for Mr. Baucus, Democrat of Montana, since he became the committee chairman in 2001 have lobbied on tax issues during the Obama administration — more than any other current member of Congress, according to the analysis of lobbying filings performed for The New York Times.

"K Street is literally littered with former Baucus staffers," said Jade West, an executive at a wholesalers' trade association that relies on a former finance panel aide, Mary Burke Baker. "It opens doors that allow you to make the case."

Like Ms. Baker, many of those lobbyists have already saved their clients millions — in some cases, billions — of dollars after Mr. Baucus backed their requests to extend certain corporate tax perks, provisions that were adopted as part of the so-called fiscal cliff legislation in January. Baucus aides who later became lobbyists helped financial firms save $11.2 billion in tax deferments and helped secure a $222 million tax benefit that is shared with the liquor industry.
Of course, Trygstad asks Schweitzer straight up if he's "reaching out to [Sen. Jon] Tester or Baucus folks" and Schweitzer replies, "No, not really." Which is a very D.C. answer!
It's pretty well-known that you can reduce the number of "frauds" you talk to in Washington by over 80 percent if you avoid anyone who's worked for Baucus entirely. But if Schweitzer's already formed his conclusion without talking to anyone from Baucus' "political apparatus," then I'm afraid to say that his impression of D.C. is not going to improve. Until the frauds help him get that Senate seat, anyway.
[Would you like to follow me on Twitter? Because why not?]
BEFORE YOU GO
PHOTO GALLERY
Political Look-Alikes