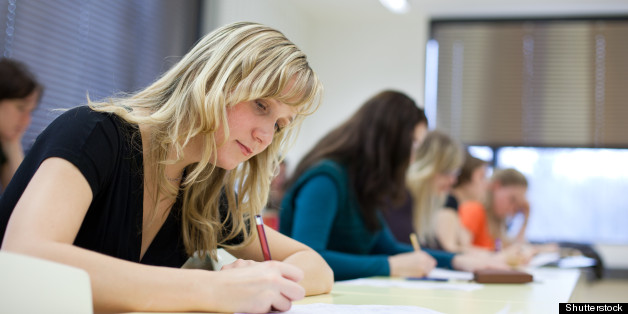 Earlier this week, the California legislature approved a bill that would cut the fees charged to many middle class Golden State college students by up to 40 percent.
"For far too long, Californians have been squeezed out of a higher education by the skyrocketing tuition rates at the CSU and UC systems, forcing students to drop out of college or take on massive student debt that will negatively impact them for years, possibly decades, to come," the bill's author, California State Assembly Speaker John Peréz (D-Los Angeles) said in a statement.
"That was putting our state on a path to failure. If California is to have a strong economy in the future, it is crucial that we have the foresight to invest in education now."
The legislation would slash fees by 40 percent for students whose families make less than $100,000 per year and by 10 percent for families earning less than $150,000. The program will be implemented gradually over the next four years.
The San Francisco Chronicle reports:
A year at UC costs about $32,000, including tuition of $12,192. A year at CSU costs anywhere from $15,000 to $25,000, depending on the campus, including tuition of $5,472.
…
Tuition discounts would decrease as family income rises. So a family earning up to $100,000 would get the full 40 percent discount once the program was in full swing four years from now. Families earning $125,000 would get a 25 percent discount, and those earning the top level of $150,000 would get a 10 percent discount.
"The skyrocketing increases in California State University and University of California tuition...have put a quality education beyond reach for more and more middle-class families," wrote Assemblyman Phil Ting (D-San Francisco) in a blog on the Huffington Post promoting the Middle Class Scholarship last year. "Private schools like Harvard can afford to offer generous scholarships to middle-class families while our state colleges and universities are sending out more and more rejection notices and offering fewer and fewer scholarships, particularly to middle-class students."
Peréz introduced a similar, albeit more generous, bill last year, but it was felled by partisan gridlock in the state senate on the final night of the 2012 legislative sessions. At the time, Republicans balked at the idea of paying for the scholarship using revenue earned from changing how the state taxes out of state corporations.
Ironically, the funds for this program will be largely taken from money generated from the passage of Proposition 39 last November, which instituted that very same tax change--although the ballot measure had intended to direct the additional revenue towards green energy projects.
Over the past decade, the cost of tuition and associated fees at the state's public universities has approximately doubled as the state has decreased the level of funding it pumps into the system. This change has forced the students themselves to shoulder an increasingly proportion of the burden of paying for college.
However, as the state's finances have begun to turn around thanks to a rebounding economy and the passage of a tax raising ballot measure, there's been a push to reinvest in the higher education system. The recently passed state budget includes a $250 million increase in funding for the public higher education system for the coming school year, which is expected to grow to an additional $1 billion by 2017.
The bill builds on the foundation of smaller scale efforts like UC Berkeley's Middle Class Access Plan, which caps the cost of tuition at the institution to 15 percent of a family's income if the household earns between $80,000 and $140,000 per year. Another program, the Blue and Gold Opportunity Plan, waives tuition for California residents whose families earn less than $80,000. Both of these programs were instituted in the past few years.
University of California Student Association President Darius Kemp told student newspaper the Daily Californian that state leaders shouldn't rest on their laurels when it comes to investing in higher education.
"It's a good plan, but the UC needs more," Kemp argued. "Students need more. We need to be in a place where we're consistently adding to funding."
Other critics have pointed out that the Cal Grants program, which provides direct tuition assistance to poor students, was slashed by five percent last year and, as an Association of Independent California Colleges and Universities spokesperson told ABC Los Angeles, they would rather see this money used to refill the hole left by those cuts.
A report by the nonpartisan Legislative Analyst's Office on the bill argued that this scholarship isn't a particularly effective way to improve college access. However, Peréz's spokesman John Vigna explained to the Sacramento Bee that the program is focused on affordability and not access.
"You're looking at two separate issues," Vigna told the Bee. "The issue of affordability is what we're trying to address here. Middle-class families who can't pay for it out-of-pocket and don't qualify for financial aid are getting squeezed very hard by these fee hikes."
Governor Jerry Brown has endorsed the program, indicating he's likely to sign it into law when it crosses his desk.
BEFORE YOU GO
PHOTO GALLERY
Twelve Bizarre But Excellent Scholarships