 This story comes courtesy of Streetsblog LA.
If there are two complaints people have with CicLAvia they are, in order of how often I hear them: cyclists are racing by and there's not enough space to walk and that the event doesn't last long enough to truly explore the entire route.
CicLAvia VII: Iconic Wilshire Corridor, seeks to address both of those concerns. First, the time of the event is longer, lasting 7 hours from 9 a.m to 4 p.m. Second, each end has a "pedestrian zone" where bike riders won't be allowed for several blocks. One zone is at One Wilshire in Downtown Los Angeles. The other is at Fairfax Avenue in Miracle Mile, right near all of the wonderful Mid-Wilshire museums. In addition, CicLAvia and the Getty Center have teamed to bring a series of architecture tours along the iconic route.
"This is our dream CicLAvia. The route is ideal for pedestrians, for people who love the history of Los Angeles architecture, foodies, families, cyclists and everyone who wants to experience the grand thoroughfare of Los Angeles from a new perspective," CicLAvia Executive Director Aaron Paley said in a media release.
Map of CicLAvia VII's route. Story continues below.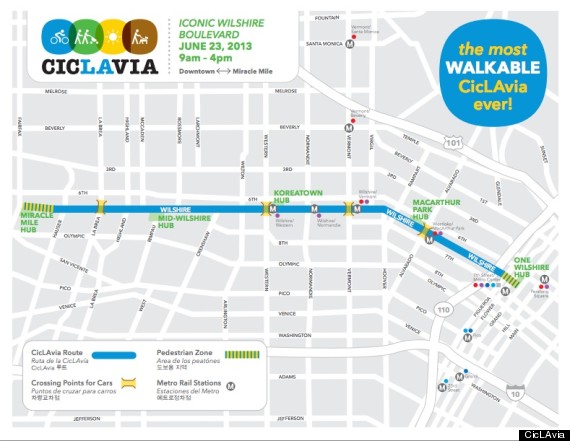 Map of Sunday's route via CicLAvia.
As part of Pacific Standard Time Presents, CicLAvia will include programs designed to provide participants with a deeper look at the architectural history of Wilshire Boulevard. Radio broadcasts by noted architectural researcher and commentator Edward Lifson will be available for participants to download and listen to as free podcasts. The radio series will tell stories that run quickly through Wilshire's beginnings more than a century ago and its pre-WWII boom years, to focus on the modern era, with stories and sounds. As of this writing, the downloads aren't on CicLAvia's website, but when they are you can find them here.
Going from east to west, let's look at some of the attractions of CicLAvia VII.
PHOTO GALLERY
A Guide To CicLAvia VII
Damien is the first editor of Streetsblog Los Angeles, the impact journalism site that's bringing better transportation options to the City of Angels. Damien holds a Masters of Arts in Public Communications from American University and was a 2011 Annenberg School of Journalism "Online Health Journalism Fellow." Follow Damien on Twitter @streetsblogLA.