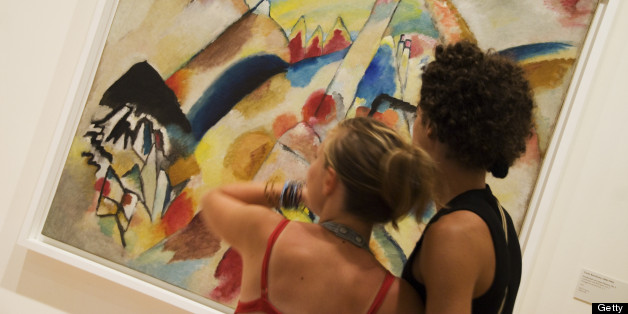 By Marla Patcher for HowAboutWe.com
When you have allergies, sometimes a fun night out can turn into a dating disaster. Your partner might plan a surprise picnic for you, which is totally romantic until you end up deep in the throes of a sneeze tornado. Or maybe you go to the cool, hip new restaurant that happens to douse everything in peanut oil, and your evening turns into an ER visit.
People who don't have allergies don't mean to be insensitive to those who sneeze or swell or hive. The non-allergic simply aren't used to thinking about it. So we've done the thinking for you. Here are some stellar date ideas that anyone with allergies can enjoy, without having to take eight Benadryl and/or an epinephrine shot.
Plus: What It's Like to Date When You're Allergic To Everything
For Outdoor Allergies
There are so many outdoor allergies to choose from. Pollen, grass, weeds, bees, etc. When you're susceptible to any of them, better to just stay indoors, am I right?
Museum
No matter where you live, a unique museum experience awaits you. Take your partner to the one you've been to a million times and show him or her all your favorite parts, or explore a brand new one together. Go to a museum that sounds cool or weird, or one you never thought you'd find yourself visiting. The important part is, museums need to protect their artifacts, so they need to maintain a clean, cool, and most importantly, indoor environment.
Comedy Clubs
Who doesn't love to laugh? I challenge you to find that person and crack them up by whatever means necessary.
Laughing is fun, plus it makes us happier and more relaxed. And I don't know about you, but laughing puts me in the mood to get frisky. What better way to enjoy a nice indoor date away from the pollen and flowers, than to laugh the night away watching some good stand-up or improv comedy?
Bowling
Something about bowling on a date seems kind of corny, right? But that's precisely what's so great about it. A little fun, healthy competition can lead to a lot of laughs and flirtation. It also makes for a perfect double date, or an excellent low-pressure meet-the-family hangout. Try not to take it too seriously, because that's when a charming indoor date can turn into a bicker battle.
Roller Disco
Go on this date when you're feeling Saturday Night Fever. Meaning, it's Saturday night and you're bored and the outdoor air is attacking you. Boogie down at the roller rink, even better if you really get in the spirit and dress up. Goofy, fun, active, and different. Skating at the roller disco is truly a date to remember.
IKEA
Whether you're actually shopping for furniture, or you're just looking for something to do indoors, Ikea is like an adult wonderland of adventure. Showrooms upon showrooms of kitchens and bedrooms and bathrooms that look much nicer (and cleaner) that yours. If "(500) Days of Summer" taught us anything, it's that playing adult house is fun and adorable. Plus, at the end of the showroom maze there's food! Who doesn't love food?
For Indoor Allergies
For some people, the indoors can be hell on earth. Dust, mold, and pets are killer, especially in closed quarters. While we don't recommend dating someone with a pet you're allergic to, it's ultimately your choice...just be sure to keep the meds handy. Here are a few fun and engaging activities you can do together, outside of the house.
Geocaching
Just some good old-fashioned outdoor adventure. Scratch that. This is NEW-fashioned adventure. In this day and age when everyone and their mother has a smart phone, this new really cool, free activity is something pretty much anyone can do. Geocaching is like a modern scavenger hunt, where the work has already been done for you.
All you need is a GPS-enabled smart phone and a sense of adventure. Geocaching takes you on an interesting path, sometimes it's a hike, or sometimes it's just a location you wouldn't usually find. There may even be treasure involved! The point is to do something different, and this is an awesome newfangled activity to try together, away from the dusty indoors.
Plus: 10 Hilarious Examples of Guys Not Realizing They're Being Hit On
Hiking
People often forget how much fun hiking is. When you need to get out of the house, hiking is THE ultimate activity. It challenges you, it takes you to new sites, and it gives you plenty of time to just hang out and enjoy each others' company.
Make sure you drink plenty of water, and bring a camera. Nature is beautiful, with or without the aide of Instagram.
Picnic
It's like the ultimate romantic notion, right? A picnic in the park with your significant other, complete with picnic basket (do they even make those anymore?) and checkered blanket. People seem to rarely do picnics anymore, which is sad. There is something really romantic about the simplicity of sitting out on the grass in a nice park, soaking up the sun, and eating a meal with someone you love.
Plus: 15 Vows for Dating a Vegetarian (and 8 Promises They Should Make to You)
Kayaking
I'm not gonna lie to you, kayaking isn't always easy. You have to work together, paddling your way through the water to reach your destination. If you don't paddle in sync, you'll fall over and get soaked. But when you do work it out and reach your destination, the outcome is very rewarding. You guys -- kayaking is a metaphor for relationships.
It's also a lot of fun (like a relationship -- my god, this metaphor is awesome!). All joking aside, spending a day on the water in a tiny boat with your significant other sounds like a good time, doesn't it? And most local areas rent kayaks for very cheap, or even for free. Take advantage of the things that are available to you!
Hot Air Balloon
I've never been in a hot air balloon, and I'm willing to bet you haven't either. There's something about it that's incredibly romantic, though. Just you and your partner, high above the land, looking down. A truly unique experience.
Hot air balloons can be a little on the expensive side of dates, so before you book one make sure neither of you get airsick, or are afraid of heights. Otherwise, just enjoy the new experience.
For Food Allergies
There is no such thing as "fool-proof" when it comes to food allergies. Restaurants can be sneaky. Not on purpose, of course. Some things just don't seem like they need to be listed on a menu, then your food comes and it's spattered with pine nuts. By the time you send it back (embarrassing!) and wait for a new dish, you're a cranky monster, and there ain't nothing romantic about that.
While it's true that people can be allergic to anything (seriously, anything), Allergy Eats! is a helpful site for anyone with common allergies and dietary restrictions. Use it to find a place that's friendly to your dietary needs, so a romantic evening out doesn't turn into a horrific reaction that night.
More from HowAboutWe:
· 12 Reasons Why You Should Date a Developer
· And the Single Most Confusing Text From a Man Is…
· The Ridiculously Simple Flirting Move For Shy Girls
Keep in touch! Check out HuffPost Weddings on Facebook, Twitter and Pinterest.