How many times have you driven over the Key Bridge into Georgetown or Northern Virginia?
How about the Arlington Memorial Bridge? Or the Theodore Roosevelt Bridge?
Did you ever feel unsafe?
Those three bridges, along with 28 others in the District, or 12 percent of all D.C. bridges, were found to be deficient in a report released Wednesday by Transportation for America.
The study, based on Federal Highway Administration standards, found that more than 5 percent of bridges in the greater D.C. area are considered to be deficient -- a total of 236 bridges over the 4429 in the DMV, according to WJLA. That number is below the national total -- almost 11 percent of bridges nationwide were found to be deficient.
In Virginia, 9.1 percent of bridges are deficient. In Maryland, that number is 6.9 percent.
WJLA breaks it down by county and city: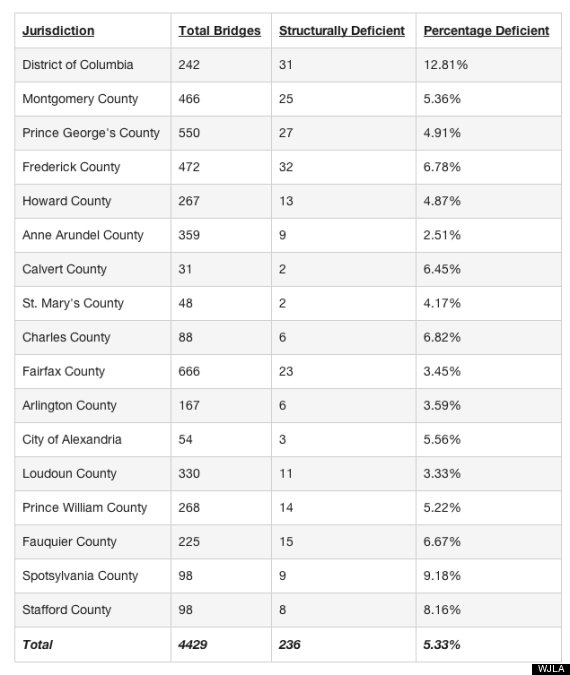 What do these numbers mean? The report explains that bridges that are labelled "deficient" aren't necessarily unsafe, but instead "require significant maintenance, rehabilitation or replacement."
The D.C. Department of Transportation plans to spend at least $110 million repairing structurally deficient bridges, according to DCist.
We'll leave it to you to decide how, or if, these figures affect your commuting plans.
BEFORE YOU GO
PHOTO GALLERY
10 Really Scary Bridges