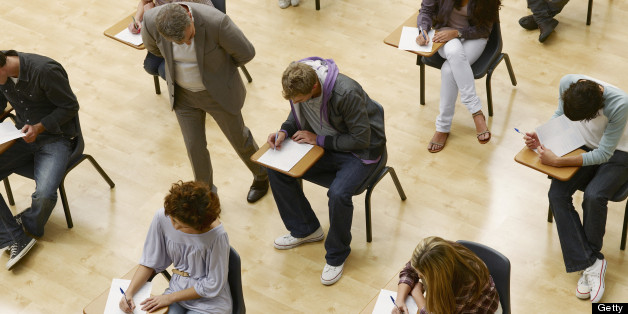 Parents helping their high school students with homework is one thing, but, as one French mother learned, sitting for an exam in a teen's place will not end well.
Paris police detained a 52-year-old French mother who allegedly took an exam for her daughter Wednesday. According to Le Parisien, the woman, identified only as Caroline D., dressed in Converse sneakers and low-rise jeans and also wore heavy makeup to the baccalaureate exam in order to look like the 19-year-old.
Since people of all ages sit for "le bac" -- the final exam that French high school students must take before applying for admission to a university -- the 52-year-old could have conceivably taken the exam without notice.
However, an exam protector, who had recently supervised another exam that the 19-year-old actually took, recognized the woman as an impostor. School officials notified local police and discretely pulled the woman out of the exam after two hours in order to not disturb others taking the test.
After the woman was taken into custody, she "freely" admitted to the cheating. She said it was an attempt to boost her daughter's score on the English portion of the baccalaureate. She now faces fraud charges, The Connexion notes. Her daughter may also feel the repercussions of the switcheroo and could be banned from taking any official exam for up to five years.
According to Europe 1, this is the first case of fraud to take place during this year's baccalaureate exam period.
BEFORE YOU GO
PHOTO GALLERY
The Best Universities In The World