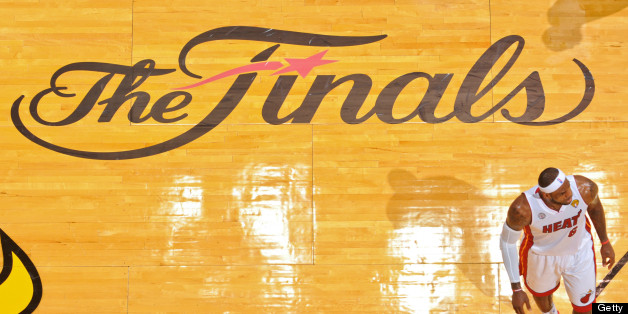 LeBron James' headband will be in the starting lineup for Game 7 of the NBA Finals, probably.
"I'll probably start off with it, man, " James said of his most discussed accessory ahead of Game 7, via CBS Sports. "A little superstitious. If it gets knocked off, then me and him will have a discussion if he will return."
Based on the way James closed out Game 6 earlier this week, the San Antonio Spurs might want to take care not to knock it off. After losing the headband during a dunk with nine minutes remaining in regulation and the Miami Heat trailing by five points, James scored 10 points and assisted two other baskets over the remainder of the fourth quarter and in overtime.
WATCH: James Dominates Game 6 After Losing Headband
After his team avoided elimination with a 103-100 overtime win in Game 6, James downplayed the significance of the headband in his late surge.
"I guess the headband was the least of my worries at that point," James told reporters after the game, via The Associated Press.
Despite James' take on the relative insignificance of the headband, it was hardly the least talked about item during Game 6 and ahead of Game 7.
In Game 6, @KingJames lost his headband. It was mentioned 788,077 times in 1 hr. Will he wear it tonight? #NBAFinals https://t.co/Q0ZzD3FTqx

— Twitter Sports (@TwitterSports) June 20, 2013
Of course, there are many who think that the headband talk is nonsense and that James can dominate regardless of the visibility of his hairline -- or anything else.
Ppl make a big deal whether @KingJames had headband on or off-does not matter dude is # 1even if he played hoops with a THONG on !Time 4 ZZZ

— Dick Vitale (@DickieV) June 20, 2013
BEFORE YOU GO
PHOTO GALLERY
PHOTOS: LeBron Without Headband