Some celebrities share throwback photos of cute childhood memories or embarrassing red carpet moments from the '90s, but Nicki Minaj is willing to take a more risque route.
Minaj posted a topless Instagram photo -- originally posted by Scaff Beezy, her producer and rumored beau -- to her profile Wednesday. In the snapshot, the hip-hop superstar appears topless with a frothy white gown folded down at her waist. With a huge blond wig atop her head, she uses her hands to cover her more, ahem, private parts.
The rapper isn't known for being demure. Minaj has appeared in various states of undress before. One of her super-sexy "American Idol" outfits caused a Twitter firestorm and her swimsuit attire for the filming of the "High School" music video was so skimpy she had a nip-slip.
The "Super Bass" rapper has certainly created a style all her own, something she couldn't do in the early days of her career.
"When I started getting serious about rap, the people closest to me were like, 'You should dress this way, you should speak that way, you should rap this way,'" Minaj told the Telegraph last year. "I just started feeling super caged in. I thought you had to [dress sexy]. But it's boring. The typical sexy. I mean, girls wanna be sexy but I also think you have other sides of yourself."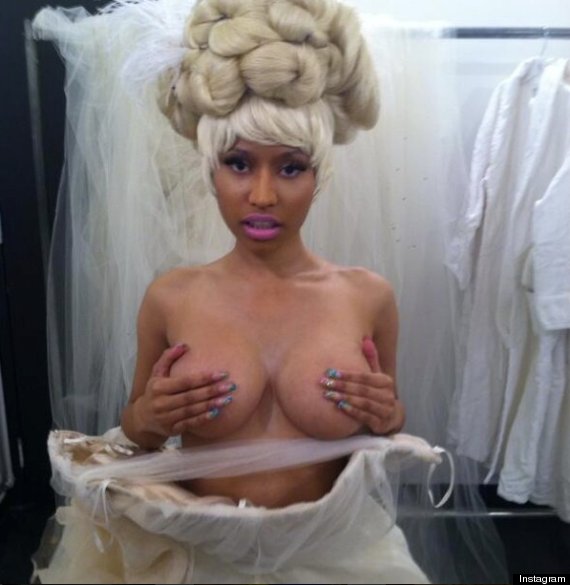 BEFORE YOU GO
PHOTO GALLERY
Sexy Backs!