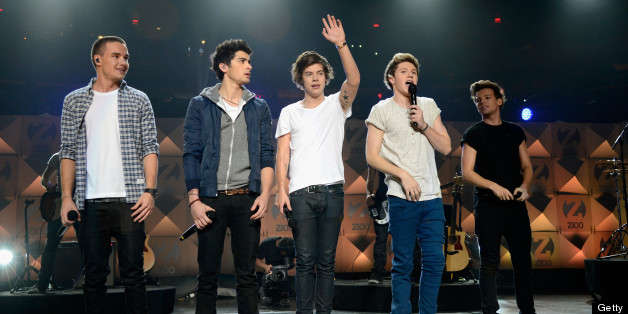 Even if you haven't been able to make it to one of One Direction's concerts in person, it's no secret the band has made sure their "Take Me Home" tour is filled with lots of unexpected, crazy moments. Here's a list of 10 of our favorite things that have happened onstage (and were caught on video!) from their live shows so far. Directioners: sound off in the comments below with your favorite concert memories and share your personal concert vids by tweeting @HuffPostTeen!
1. Selfie videos. In the middle of a show in Belgium, Liam took a Directioner's camera from the audience and filmed a quick video of the concert from his point of view. Liam panned out to the crowd and the rest of 1D on stage, but didn't give the fan her camera back before making a short selfie performance.
2. Twerking Contest. During the live-question portion of one of their concerts, a fan used Twitter to challenge One Direction on their twerking skills. After Niall did a quick YouTube search and showed the rest of the guys, the band performed their most twerktastic moves on stage.
3. Forgetting lyrics. When the boys were in Cardiff in the UK they covered "Teenage Dirtbag," a 2000 hit from the band Wheatus. There was only one problem: Louis Tomlinson didn't remember the lyrics. "Okay, I just forgot the lyrics," he says in the video below. "I'm not even going to pretend I know them."
4. Harry Getting Pantsed. When 1D performed in London back in April, Liam pulled an age-old prank -- he pantsed Harry, except he did it in front of 20,000 people. Luckily, Harry recovered quickly. As for the rest of the band? They had a good laugh.
5. "I Want It That Way" Cover. Directioners in Stockholm were in for a real treat back in May when the band performed the Backstreet Boys' 1999 hit "I Want It That Way." BSB even gave 1D a Twitter shout-out after they heard about the cover performance.
6. Ballroom Dancing. Don't be fooled by all the twerking: 1D has plenty of other fancy dance moves to show off. At least, that's what we're led to believe after their concert in Kentucky when Harry and Niall ballroom danced on stage. We've never seen a more perfect twirl from boy band members, but they might want to work on their dip at the end.
7. "My Heart Will Go On" Cover. As if a Backstreet Boys cover wasn't amazing enough, One Direction also gave an incredible performance of Celine Dion's famous hit, "My Heart Will Go On" when they were in Berlin. Fans started screaming as soon as they heard the music, before the boys even started singing.
8. Water Fight. It all started when Louis poured his water bottle on top of Liam's head in the middle of singing "What Makes You Beautiful," but the concert didn't end without retaliation. Right after the song was over and before the band exited the stage, Liam dumped even more water on Louis!
9. Candy Underwear. Yes, you read that correctly. At the end of a concert in Ohio, one fan actually threw a pair of candy underwear on stage and Harry took it upon himself to wear them (don't worry, he put them on over his pants). And it got weirder: Harry walked over to the rest of the band and Zayn jokingly took a bite. Awkward?!
10. T Swift Shout-Out. This could just be wishful thinking on our part, but apparently Taylor Swift's name was said during a quick pause after Harry sang the lyrics "I'm in love with you" during a performance of "Little Things." It's unclear which 1D member inserted Taylor's name into the song (we have a hunch it was Louis or Niall) but regardless, it was another chance to relive all of the beautiful moments that were Haylor.
BEFORE YOU GO
PHOTO GALLERY
Best Moments From 'Take Me Home' Tour