A brutal video from Brazil appears to show a crowd of protesters beating a police officer until he's unconscious.
Uploaded to video-sharing site Live Leak on Wednesday, the footage shows a large group of protesters charge a cluster of about eight officers and pelt them with rocks and large chunks of concrete. At one point, a single protester apparently knocks an officer to the ground.
A crowd of demonstrators swarm over the fallen man, kicking and beating him until more riot police come to his aid. At least one officer uses an electroshock device to disperse the protesters. Another officer drags the fallen man, who appears to be unconscious, away from demonstrators.
The incident occurred outside the state assembly in Rio de Janeiro on Monday night.
The demonstrations began June 13 when a small group of mostly students protested an increase in the fares on public transportation in Sao Paulo. Protests ballooned Monday night after images were broadcast of police violently cracking down on participants.
However, in what may have been a conciliatory move, Brazilian leaders announced Wednesday that the fare hikes would be rolled back in Sao Paulo and Rio de Janeiro.
WARNING: THE VIDEO BELOW CONTAINS GRAPHIC IMAGES.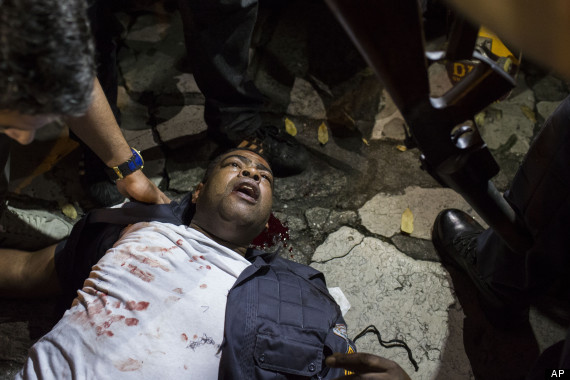 The officer after the beating. (Photo: AP/Felipe Dana)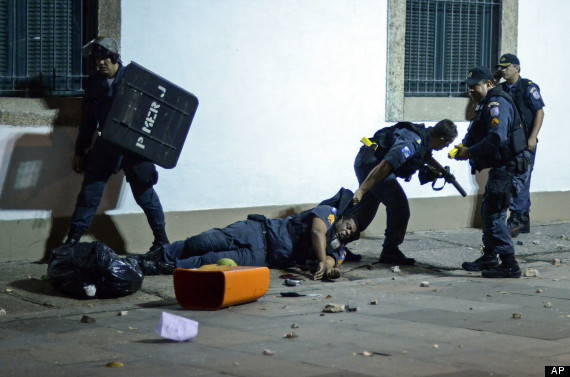 The officer is dragged away by his colleague. (Photo: AP/Nicholas Tanner)
(Hat tip, Throwaway3m3v2x on Reddit)
BEFORE YOU GO
PHOTO GALLERY
Protests Rock Brazil