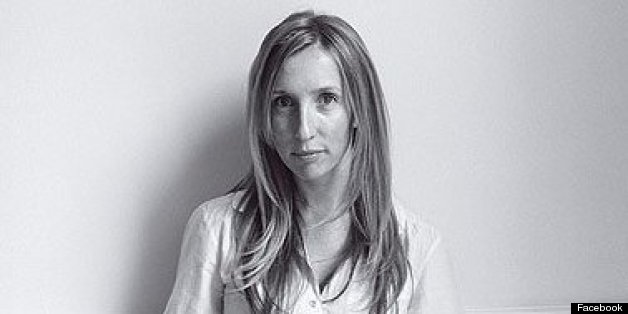 Exciting news for 'Fifty Shades of Grey' fans was announced Thursday: The film adaption of the wildly successful book trilogy now has a director. Sam Taylor-Johnson has signed on to helm the film, finally ending what HuffPost Entertainment called "one of the longest directorial searches in recent memory."
Considering that the Fifty Shades books sparked so much debate over whether or not the subject matter empowers or demeans women, it perhaps makes sense that the producers tapped a woman rather than a male director like Gus Van Sant for the job.
So what can we expect from the relatively unknown Sam Taylor-Johnson? Here are 9 facts about her that may give us a better sense of what to expect from her new high-profile project.
1. She had a unique childhood.
According to a 2009 interview with the Guardian, Taylor-Johnson (who was born Sam Taylor-Wood and has used that name professionally in the past) was born in London in 1967. Her father, who was previously a chartered surveyor, left his family to become the treasurer of Hells Angels when Taylor-Johnson was nine, and from that point on she lived in a commune with her yoga-teaching mother until she left at fifteen. She eventually graduated from Goldsmiths College in 1990.
2. Before she became a director, she was a photographer and video artist.
Sam Taylor-Johnson's best known artistic work is arguably a filmed portrait of David Beckham sleeping, but her past work also has an interesting gender-based lens. Her book Crying Men features 28 famous actors (including Robin Williams, Sean Penn, Laurence Fishburne and Paul Newman) crying, and her short films "Hysteria" and "Breach" feature a woman laughing and a woman crying, respectively.
3. She's worked in the music industry, too.
She directed the music video for R.E.M.'s song "ÜBerlin" (which features her husband Aaron Johnson) and even released an album in Germany in 2008 -- "Sam Taylor-Wood Produced By The Pet Shop Boys."
4. She has only directed one other feature film.
Taylor-Johnson directed the critically acclaimed and BAFTA-award nominated film "Nowhere Boy" in 2009, which focused on John Lennon's relationships with his aunt and mother. Taylor-Johnson was also nominated for the "Outstanding Debut By A Birtish Writer, Director or Producer" BAFTA.
5. She's married to a younger man.
Her current husband, actor Aaron Taylor-Johnson (formerly Aaron Johnson), portrayed John Lennon in "Nowhere Boy" and is known for his roles in "Kick Ass" and "Anna Karenina." He is 23 years younger than his wife -- which caused plenty of media outlets to deem Taylor-Johnson a "cougar." The couple have two young daughters together (in addition to Sam Taylor-Johnson's daughters from her previous marriage). Additionally, instead of Taylor-Wood taking Johnson's name after marrying, the two both changed their last name to "Taylor-Johnson."
6. Her first husband was the famous art dealer Jay Jopling.
The artist and director married Jopling -- the son of former Tory minister Lord Jopling who has been described as the "Mr. Money of the British art scene" -- who also acted as her agent in 1997. However, the two separated in 2008, and Jopling was soon after linked with British singer Lily Allen.
7. She's not in it just for money.
Taylor-Johnson has described how in 2009, she walked out of a business meeting in L.A. because she felt that the entertainment industry, "[is] all motivated by box-office returns, and I'll never be able to make the kind of film I want to make next….the minute you go into certain realms and budgets…you lose control."
8. She's battled cancer twice.
Sam Taylor-Johnson was diagnosed with colon cancer in 1997, weeks after giving birth to her first daughter. In 2000, she was diagnosed with breast cancer and underwent a mastectomy and six months of chemotherapy. When asked if having cancer made her "harder," she remarked, "I don't necessarily think harder, but I do think you're more free about where you want to be in life. Time is precious."
9. She's psyched to direct "Fifty Shades of Grey".
In response to the public announcement that she had been chosen to direct the much-anticipated film, Taylor-Johnson stated, "I am excited to be charged with the evolution of Fifty Shades of Grey from page to screen. For the legions of fans, I want to say that I will honor the power of Erika's book and the characters of Christian and Anastasia. They are under my skin too."