The star of "Magic Mike," "The Vow," "Step Up 2: The Streets" and other films that feature shirtless men, Channing Tatum is in D.C. to promote the opening of his newest film, "White House Down."
Kicking off the #WHDtour with @iamjamiefoxx at the AMC Loews Georgetown tonight. In DC? Come on down and check out the red carpet!

— Channing Tatum (@channingtatum) June 21, 2013
Co-star, and mutli-talented EGOT bound actor, singer, comedian Jamie Foxx will also be in the nation's capital. The two will smile brightly on a red carpet while adoring fans scream about hopes of the actors Channing all over their Tatum.
Story continues below...
PHOTO GALLERY
Channing Tatum Gyrates Everywhere: Animated GIFs
Tatum, Foxx and Maggie Gyllenhaal star in the action film set in a Washington under attack. The film was directed by Roland Emmerich, best known for destroying D.C. in "Independence Day" and "2012."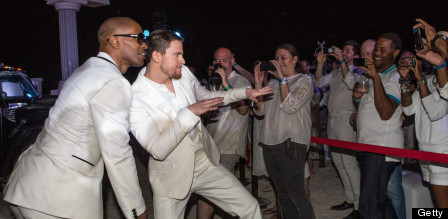 CANCUN, MEXICO: In this handout photo provided by Sony Pictures Entertainment, Jamie Foxx and Channing Tatum attend the 'White House Down' White Party at the 5th Annual Summer of Sony event at the Ritz Carlton Hotel on April 19, 2013 in Cancun, Mexico. (Photo by Matt Dames/Sony Pictures Entertainment via Getty Images)
This isn't the first time the White House has been under attack, on film. In fact, it's not even the first time it's been under attack this year, on film. In the spring "Olympus Has Fallen" also featured a president needing rescue from a shirtless man.
PHOTO GALLERY
D.C. Under Attack
PHOTO GALLERY
Celebrity News & Photos