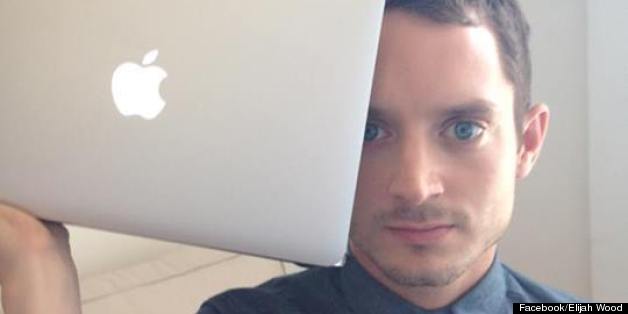 Elijah Wood is a delight.
The "Lord of the Rings" actor took to Reddit Thursday to hold an AMA ("Ask Me Anything"), and it reads like he was just chatting with buddies -- none of that "too cool" celebrity arrogance.
Example number one -- he loves Labradoodles:
I would like a dog. I particularly love Labradoodles, which is not exactly the most masculine name of a dog to say - "i want to get a labradoodle!" doesn't exactly sound awesome. But they are beautiful dogs. I love cats too, for the record - I know that people are usually either dog people or cat people, but I am animal ambidextrous.
Also, he still gets nervous for auditions and gave great advice to a fan trying to overcome fear of them. "I find that sometimes, if I articulate that I'm a little nervous, it helps. I also find that to find a comfort zone for myself by communicating -- just having a chat with people in the room prior to actually getting into the audition part helps," Wood wrote. "To just talk about something else and relate to them as people -- it humanizes the experience."
The record collecter and occasional DJ shared a few music recommendations:
Goat - WORLD MUSIC
Tame Impala - LONERISM
The Brand New Wayo compilation
The new Boards of Canada record
Obviously, the new Daft Punk record RANDOM ACCESS MEMORIES
The Orb and Lee Scratch Perry released an album together
His favorite movie? "Harvey," the 1950 film about a man who has an invisible human-sized rabbit friend. "I love the film and think it's really profound and I think it can be enjoyed on multiple levels," Wood wrote. "It's very funny, but it's also left for interpretation as to what Harvie [SIC] is and what is gong on with Jimmy Stewart's character." Sounds a lot like "Wilfred," the TV show Wood stars in!
Other fun facts: his first job included a Paula Abdul music video "Forever Your Girl," he loves coffee ice cream, and he met his manager when a man stopped him in the Biltmore hotel lobby and asked him if he wanted to get into acting.
One redditor told him "I love you," and he wrote right back, "I love you, too." Well three's a crowd, cause we love you too, Eli!
BEFORE YOU GO
PHOTO GALLERY
Stars On Set