Francois Hollande has a doppelganger. And he lives in Spain.
One observant woman from Lillie spotted the French president's double on a Spanish TV channel earlier this week. A Twitter user then shared the screenshot of the look-alike Friday morning. The resemblance is pretty striking.
On me signale un sosie du Président Hollande à la télé espagnole. Je ris très très très fort :-)) pic.twitter.com/oJwgjQLIV9

— Amine El Khatmi (@Amk84000) June 21, 2013
After Amine El Khatmi's tweet was widely circulated on social media, Hollande's doppelganger was identified as Javier Alonso Sandoica, a Catholic priest and journalist from Madrid. The faux Hollande works for 13 TV and hosts a show that is broadcast on the Catholic TV channel every Sunday.
France's The Local reached out to Sandoica to get his opinion on the comparison to Hollande. When asked if he was flattered he replied: "Absolutely not. Compare the hair."
As Le Huffington Post notes, this is not the first time a Hollande look-alike has been pointed out. But, in our opinion, Sandoica bears a much stronger resemblance to the French president.
What do you think? Tell us in the comments!
LOOK: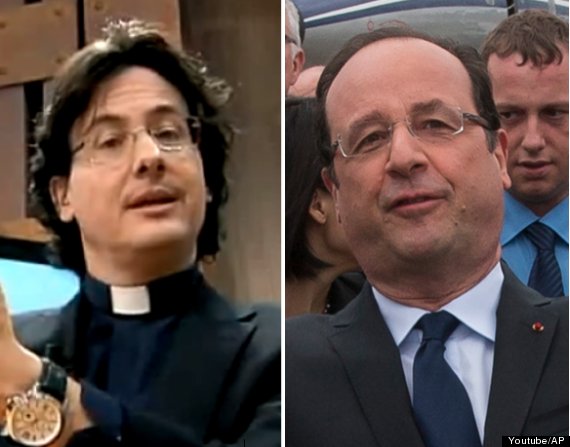 BEFORE YOU GO
PHOTO GALLERY
Facts About Francois Hollande