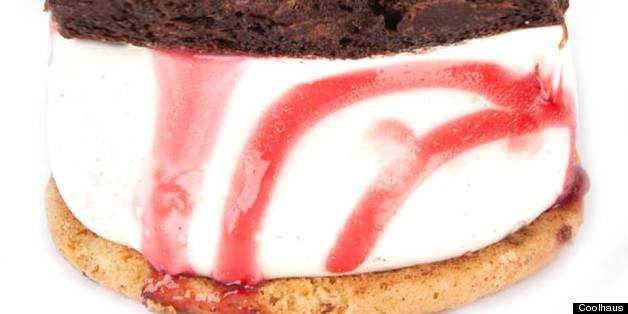 Fans mourning the final season of Showtime's "Dexter" can now eat their feelings away thanks to Coolhaus.
The architecture-inspired ice cream sandwich truck is giving away free "Dexter Killer Combo" sammies in both Los Angeles and New York to celebrate the beginning of the end for our favorite TV serial killer.
Showtime is underwriting the ice cream giveaway to drum up anticipation for the June 23 "Dexter" season premiere. They went super deep (well, as deep as dessert can get) when it came to crafting the sammie -- a vanilla and cherry ice cream, sandwiched between a double chocolate chip cookie and a Snickerdoodle cookie.
"The dark and light cookies in this sandwich represent the two sides of Dexter," explains the treat's edible wrapper. "Between them is a refreshing Tahitian vanilla ice cream with a 'bloody' cherry swirl."
As usual, pay attention to Twitter (@CoolhausLA and @CoolhausNY) to see where the truckers are going on their next "Killer" spree.
From the looks of @CoolhausLA's latest tweet, it seems that fans will be in for more than just a frozen treat if they come to Venice Beach on Sunday, the final day of the promotion.
On SUN: @CoolhausLA will be in Venice Beach with FREE #Dexter ice cream sammies. Around 1PM watch out for a very special guest at our truck!

— SHO_PR (@SHO_PR) June 21, 2013
And for people too posh to wait in line, the Dexter Killer Combo is available for purchase on the Coolhaus site.
BEFORE YOU GO