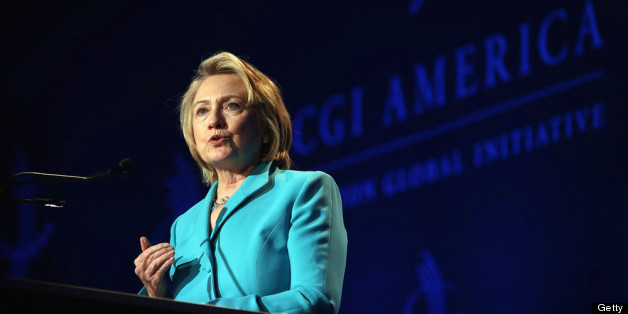 There are well over 1,000 days before the 2016 election, but there is already a very prominent super PAC supporting a potential presidential bid from Hillary Clinton -- Ready For Hillary PAC.
We've made note of the group before -- its interesting hook is that it has opted to cap donations at $25,000 maximum, and plans to disclose every donation above $250. The hope, in doing so, is that this super PAC-in-waiting can be supportive of a Clinton bid without doing her any reputational damage. Allida Black, one of the super PAC's cofounders, put it like this back in April: "You're going to know exactly who our donors are. Adam and I would never, never do anything that would taint Hillary."
With that in mind, let's cut to Friday's Washington Post, which reports that Ready For Hillary PAC is attracting "donors and worries."
The upstart super PAC, called Ready for Hillary, is fast emerging as the quasi-official stand-in for potential 2016 presidential contender Hillary Rodham Clinton, scooping up advisers and gathering big donations more than three years ahead of election time.

But the group is also making some advisers in Clinton's orbit decidedly nervous about its potential impact on her own efforts, which for now consist of philanthropic pursuits and remaining mum on a presidential bid. Some allies also fear a repeat of 2008, when an assumed air of inevitability contributed to Clinton's loss to fresh-faced challenger Barack Obama.
Okay, lets tot up who is worried, shall we?
Here is one guy from 1996 who is generally worried about the confusing "proliferation of pro-Clinton groups:"
"It's hard to even know what's what any more," said John Morgan, an Orlando lawyer who served on Bill Clinton's 1996 national finance committee. "It's become a cottage industry. It's like, 'Who are you?' Just because you put the name Hillary at the end of your PAC -- it could be a bait and switch. I want to make sure I can get the biggest bang for my buck."
Here is another guy who actually seems a little envious that Ready For Hillary is having as much success as it's having, right out of the bat:
Still, enough boldface names close to the Clintons are involved to give Ready for Hillary "the official 'Good Housekeeping' seal of approval for all things Hillary," said Michael Trujillo, an adviser to a rival super PAC.
Naturally, the starkest concerns -- the ones that justify the piece's headline and thesis, anyway -- come from The People Who Won't Give Their Names:
One person in Democratic politics close to Clinton, who did not want to be identified as critical of the outside efforts, said the super PAC might "create a lot of chaos." Others fret that Ready for Hillary could push Clinton into a partisan politics earlier than she would like.

"I worry that this effort -- while very well-intentioned -- kind of shortens the life span of the icon and lengths the life span of the politician. You kind of grimace," said one Clinton campaign veteran, who spoke on the condition of anonymity to speak candidly.
Thanks, One Person In Democratic Politics Close To Clinton and Clinton Campaign Veteran, for helping us craft a narrative today!
Everyone else named in the piece -- including Ready For Hillary PAC founders Adam Parkhomenko and Allida Black; Ready For Hillary PAC advisers Harold Ickes, Craig Smith, Jim Lamb, and James Carville; Clinton spokesman Nick Merrill; Ready For Hillary PAC funders Ellen Tauscher, Shelly Porges, Susie Tompkins Buell, Christopher G. Korge, Ann F. Lewis, Thomas "Mack" McLarty, and Steve and Amber Mostyn; and Ready For Hillary PAC supporters Senator Claire McCaskill and former Michigan Gov. Jennifer Granholm -- evince no worries about Ready For Hillary PAC at all.
I'm only speculating here, but I think that's because they all have either founded or advised or funded or supported the Ready For Hillary Super PAC.
Anyway, the Ready For Hillary Super PAC doesn't sound like it's worrying anybody of note and 2016 is more than 1,000 days away, so just keep calm, carry on, etc.
[Would you like to follow me on Twitter? Because why not?]
BEFORE YOU GO
PHOTO GALLERY
Donors Giving $500,000-Plus To Super PACs