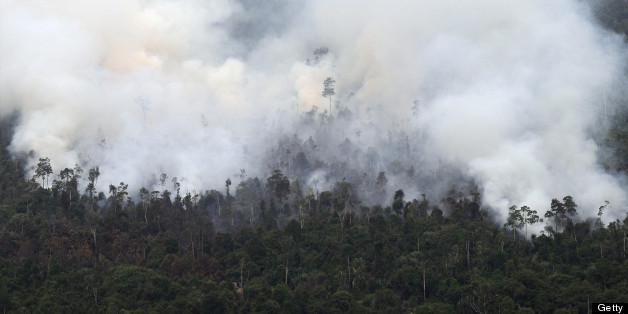 Palm oil companies are suspected of illegally starting widespread forest fires in Indonesia in order to clear land for palm oil plantations, Indonesian officials say. The fires have caused record levels of hazardous smog in neighboring Singapore since Wednesday.
Reuters U.K. reported Friday that the destructive blazes on the island of Sumatra had been "deliberately set." Indonesian officials said eight companies were responsible for the fires, and more are likely to be named on Saturday, per Reuters.
"Since the fires are happening mostly on plantation lands, we believe there are plantation companies involved," Indonesia's National Disaster Management Agency spokesman Sutopo Purwo Nugroho said, according to The Times of India. "The president has already put together a team to investigate who owns the plantations."
The paper notes that the illegal burning of forests generally happens from June to September each year -- during Indonesia's dry season.
"This recent smog is just the most visible part of the serious deforestation and human rights crisis sweeping Indonesia," Laurel Sutherlin of the Rainforest Action Network, a San Francisco-based environmental organization, told The Huffington Post via email Friday. "Widespread, illegal burning to clear rainforests and peatlands for palm oil and pulp and paper plantation expansion is unfortunately a well-established yearly ritual in Sumatra."
Complicating matters, some big palm oil companies that operate in Indonesia are based in Singapore or have Singaporean investors. According to a BBC report, Singaporean Prime Minister Lee Hsien Loong said that if any Singaporean companies, or companies with a presence in Singapore, played a part in the fires, they would be held responsible.
Asia Pacific Resources International, which has palm oil operations on Sumatra and offices in a number of countries including Singapore, was one of the companies named by Indonesian officials in connection with the fires. However, the company says on its website that it has had a "no-burn policy" in place since 1994.
A staple for cooking throughout Southeast Asia and elsewhere, palm oil is the single largest traded vegetable oil commodity in the world, and global demand is rising rapidly, the U.S. Department of Agriculture says. The oil is increasingly used in the manufacture of cosmetics, soaps, pharmaceuticals and industrial products. It is also used to make biodiesel fuel.
Indonesia produces more palm oil than anywhere else in the world, according to the Department of Agriculture.
The slash-and-burn methods apparently being used in the Indonesian jungle have caused the worst smog in Singapore's history. The Pollutant Standards Index reached a high of 401 in the city-state at noon on Friday, according to The Independent. A measurement over 400 is said to be life-threatening to sick and elderly people, the paper notes.
Singapore's prime minister said Thursday that the smog could last for weeks or more.
BEFORE YOU GO
PHOTO GALLERY
June 2013 Singapore Smog