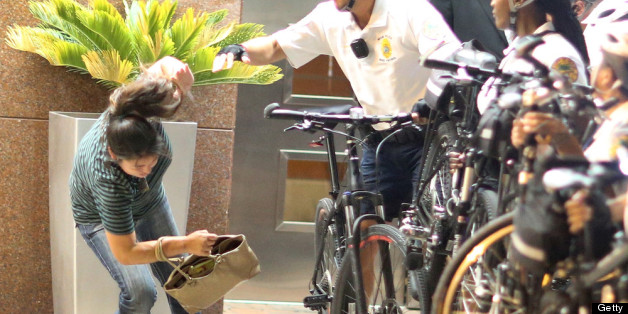 Miami's reaction to back-to-back NBA championships is complicated: First we're overjoyed for our unstoppable team.
But then we start to get a little jumpy about any celebratory gunshots that may leave stray bullets falling through the tropical air.
Luckily, none of these victory shots resulted in injury -- at least as of 1:30 a.m., reports the Miami Herald.
The City of Miami Fire Department told the newspaper that as of early Friday, there were no reports of "major problems from the post-game celebrations." Any incidents revolved around crazed fans jumping on top of gridlocked or slow-moving cards outside the arena.
But a Getty photographer snapped a series of photos that put the night's downtown celebration is a more negative light. (Story continues after slideshow.)
PHOTO GALLERY
Miami Police Clear Streets Of Heat Fans
In the photos, City of Miami bicycle cops advance on a street of revelers using their bikes as armor.
One photo shows a woman either falling or pushed down and then pointing to the cop who then drags her on the side of the downtown sidewalk.
Was she pushed down by the cop? Was there unnecessary force used to clear Miami's streets of boisterous fans Thursday night?
"The scene was nothing buy joyful and totally peaceful: no one acting out, running around, nothing," reveler Sylvia Mayá, who was outside the arena when cops arrived at 1:15 a.m., told HuffPost Miami. "All of a sudden, we saw dozens of cops on bicycles ride down Biscayne past the arena, one after the other.
"Out of nowhere, the cops lined up side by side, held up their bicycles about chest-high, and started marching into people, Roman-legion style, pushing them like cattle with their bikes towards Second Avenue."
Mayá then describes being trapped between two lines of cops, a gate, and a car as police shouted "Get off the street! You don't listen, do you?!"
"Something could have happened [Thursday] night -- something bad," she continued. "And it wouldn't have been caused by Heat fans celebrating on the street, but by the cops, who used inexplicable and excessive measures to 'control' an entirely peaceful gathering, who demeaned and verbally harassed a happy crowd out to enjoy its city's team's win."
HuffPost Miami has reached out to the Miami Police for comment.
BEFORE YOU GO
PHOTO GALLERY
2013 NBA Championship Celebration: The Fans