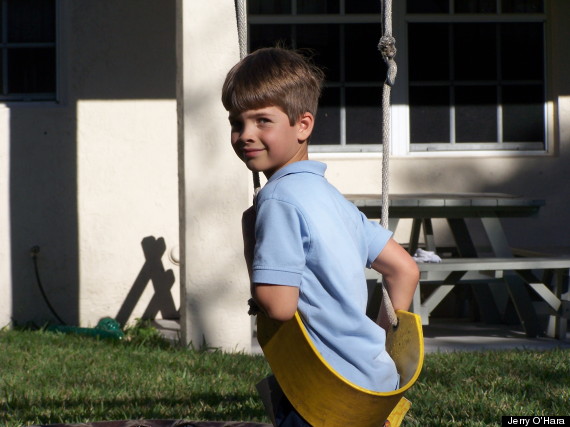 I remember when my daughter Olivia came home with another school paper for me to sign; I glanced at it like I normally do, skimmed over the letter while dinner bubbled over on the stove, and my son asked me a math question that I couldn't answer. Then I put my pen down on the line to sign my name and paused. The letter was a request for my approval to have my daughter shown on video because a boy in her class, Owen, was battling cancer and he could participate with his class via HopeCam from home. My heart broke, my mind scanned through what I could recall from her second grade classroom: the small desks pushed together in groups of four, as I thought which one is Owen? I signed the paper and hugged both kids with a lump in my throat, and I didn't say a word because I just wasn't sure what to say to a 7-and 8-year-old.
Rather than focus on the illness and details of the obvious heartache that goes alongside a diagnosis like this, I'd like to tell a true story about a family with magnificent hope, a boy with eternal courage, and a community and school that has come together to support Owen and, in the end, teach students something invaluable.
The O'Hara family is a large one with five beautiful and talented children: Olivia (17), Daniel (15), Maura Kate (12), Owen (10) and John (6). Jackie and Jerry sat down with me and told me stories of the astonishing support that they have received from the small community of Warrenton, Virginia (and beyond). Jackie explained that one of the hardest things to accept is that they were normally the "givers," the ones helping others, and then they found themselves on the receiving end. She reminded me that they are just regular people – but from what I can see, they are much more than that. They have found themselves with a son diagnosed with cancer, and they simply want to find a way to say thank you to everyone for their help. Around every corner there has been a surprise for them– the social worker at the hospital who counseled them to accept being on the receiving end, to the Child Life Specialists at Inova Fairfax who were able to explain to Owen in simple terms what was happening to him so he would not be scared; to the countless friends, neighbors and relatives who contributed meals and kept their kitchen stocked while Owen received treatments.
Jackie and Jerry were so compassionate when explaining how challenging it has been for their other children to cope with a sibling who has cancer. At the behest of Holly, their Child Life Specialist, the O'Haras contacted Special Love, an organization that exists to give ordinary life experiences to pediatric cancer patients and their families. This organization provided the O'Hara family with a special kind of summer camp for children who have or have had a sibling with cancer. Jackie explained that the summer camp experience was priceless for her children. Organizations that they never knew existed came out of the woodwork to help.
Second grade passed into third grade, and one afternoon when I was on a business trip, I heard the familiar ding on my phone – a message from my daughter, Olivia: "Great news – Owen's coming to school for a visit tomorrow!!!!!" [You've counted correctly -- five exclamation points.] Olivia told me later that Owen looked great, and he wore a mask over his mouth so he wouldn't catch a cold from anyone during his visit to the classroom. She added that even without his hair he looked so cool and my son Mateo chimed in, saying that Owen has the best collections of hats that he has ever seen.
The support came in droves and the school children couldn't be more excited: Flyers came home announcing school events and that the proceeds would benefit Owen. We roller skated with classmates and teachers and parents, the school had a 50/50 raffle where the winner donated the proceeds to Owen. The school held popcorn sales and special bracelet sales for Owen. Both Chick-fil-A and Silpada held fundraisers as well. I found myself paying more attention to announcements from the Be the Match organization, and I Googled facts about donating bone marrow so that I could accurately explain it to my children. My kids were now asking me for coins to put in donation jars rather than the vending machines in grocery stores. They took change out of their piggy banks to buy Candy Grams on Valentine's Day for Owen.
After a diagnosis of a second relapse only 6 months after his bone marrow transplant, friends and family of Jerry and Jackie wondered what else they could do for the entire O'Hara family. The C. Hunter Ritchie Elementary school and the extended community put the word out that Owen loves Legos, so the entire community worked together to send the O'Hara family to Legoland in Florida. The Durkin family donated their travel points so they could stay in a Marriott. The proceeds from a PTO-sponsored parent versus teacher basketball game were donated for spending money. An aviation company donated a private jet and pilots to fly the entire family down to Florida. The plane was stocked with food and drinks – Owen got to ride in the cockpit jump seat, and the pilots gave him an aviator jacket, t-shirt and hat. When I asked Owen what it was like to ride in the jet, he smiled widely saying "it was so cool." Cars were awaiting the O'Haras upon their arrival at Orlando airport; their hotel room was stocked with snacks and drinks by family friends who knew what they'd need. The same friends stocked their refrigerator with meals when they returned home. When Owen arrived at Legoland, he was greeted by the Legoland mascot "Buddy," and Owen was able to throw the switch that illuminated and opened Legoland for all the other guests. They had VIP treatment at Legoland's Ski show, where Owen had photos taken with all of the characters.
As Jackie and Jerry described the outpouring of support and people showering them with gifts, they couldn't help but mention Owen's elementary school, C. Hunter Ritchie. Owen's teacher, Sharon Mellon, has maintained a sense of normalcy for Owen by bringing him homemade cards and gifts from his classmates. She has brought him school assignments and delivered messages from everyone at school. Through the months and months of hospital stays and treatments, the O'Haras were able to have a family vacation without the worry of planning a thing. Owen's older sister Olivia created a movie trailer about the trip, and by the looks of it, they enjoyed every moment (and Olivia has quite the calling in movie production!).
As I watched Owen sit next to me and expertly put together a Lego set, he looked up at me as I asked him questions and I was struck by his big, beautiful eyes. Because of Owen, children in our community have had a glimpse into the meaning of the words Compassion. Empathy. Benevolence. Humanity. Kindness. These are words and lessons that cannot be learned on a standardized test or in a classroom but from a real life example through people like you.
BEFORE YOU GO
PHOTO GALLERY
When a Community Comes Together