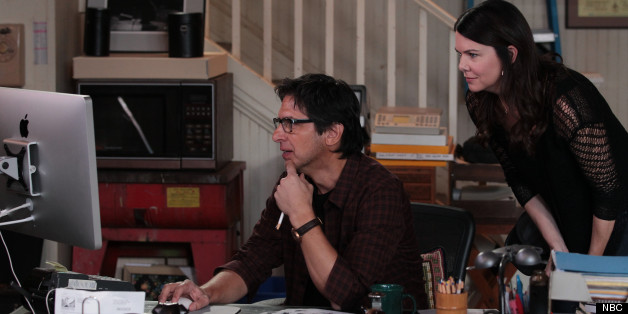 Ray Romano is heading back to "Parenthood" for Season 5, Deadline was the first to report.
According to the website, the "Everybody Loves Raymond" alum has closed a deal to return to the NBC drama as Sarah's (Lauren Graham) boss-turned-boyfriend Hank Rizzoli, appearing in as many as 12-15 episodes.
Earlier this month at the ATX Television Festival in Austin, Texas, TVLine asked "Parenthood" executive producer David Hudgins if Romano could return for Season 5 of "Parenthood," considering the way Season 4 ended: Sarah chose Hank over her fiancé Mark Cyr (Jason Ritter), only to learn that Hank was moving away to Minnesota be closer to his daughter. Though he gave Sarah the option of coming with him, the Season 4 finale ended with the two going their separate ways. Of course, either one could have a change of heart come Season 5.
"We're currently discussing it," Hudgins told TVLine. "I love Ray Romano and thought he was so good on the show last year ... He's great in that part and he works hard. He doesn't just show up and do his [scenes]; he actually researched the character."
Romano told The Huffington Post during Season 4 that he was originally wary of coming between Sarah and Mark. "I remember when I found out that there was going to be a little more between Hank and Sarah. I called up ["Parenthood" creator] Jason Katims and I said, 'Listen. If I'm going to get in the middle of this thing with Jason Ritter, please, we've got to make sure we see something that she sees in this guy. Please, give the audience something to hang on to,'" he said with a laugh. "Believe me, I love hating my stuff. But when they showed me a cut of the first day ... First of all, I just love the way they edited it and I love the way it looks and I love the way they film it ... It all kind of fit. And so far, I've been lucky."
Click back over to Deadline for more.
"Parenthood" moves to Thursday nights at 10 p.m. ET on NBC this fall.