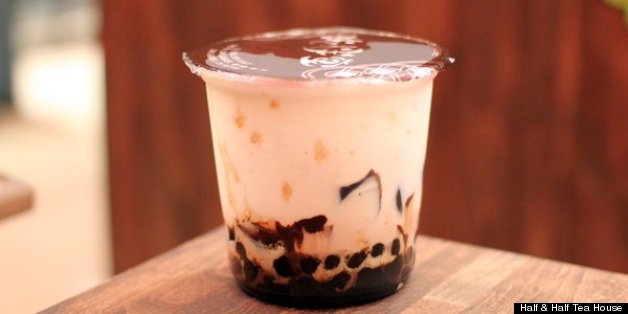 This story comes courtesy of Los Angeles Magazine
The long line outside Half & Half Tea Express in Monterey Park says it all. Angelenos are thirsty for honey boba, milk tapioca, and flavored iced teas of all kinds.

In recent years, tea cafes have grown in popularity throughout the San Gabriel Valley. Though the clientele is predominantly young Asian Americans, Angelenos of all walks of life are discovering the seemingly infinite variations on flavored and textured tea.
Many tea cafes, such as Tea Station in San Gabriel, serve simple meals in addition to their beverage offerings. You'll find tea-flavored noodles, Taiwanese popcorn chicken, quick rice dishes, and desserts like mango ice. These tea cafes often act as social hubs for high schoolers looking for a place to study with a side of boba.
Originally created in Taiwan in the 1980s, boba is a tea-based drink that often contains fruit or milk in addition to signature "boba" balls, which are made from tapioca. Ice-blended versions are often mixed with flavored syrups and have a slushy texture. Wide straws enable imbibers to access the chewy boba. Fans love their firm, gelatinous consistency and sweet finish.
"Tea is growing in popularity because people see the health benefits," said Jimmy Huang, 54, owner of Tea Station. Huang opened his first tea café in 1996 and now says there are over 50 Tea Stations within North America.
"Originally these tea cafes opened in Asian neighborhoods because people in the neighborhood were familiar with boba and are already tea drinkers. But now, the beverage is going mass market. Plus, more people now want to drink tea instead of coffee," added Huang.
Now that we're in the midst of a hot summer, you might want to check out one of these air-conditioned tea cafes or stop in to get an iced drink while on the go. At Tea Station, the mango strawberry teazer, pearl iced green tea, and black sugar milk boba tea are all popular. At Ozero in Alhambra, the lemon green tea with kumquat has a nice balance of sour and honey-sweet. And with tea, it's all about striking the right balance.
Looking for a good tea time? Here are our recommendations:
PHOTO GALLERY
Tea Cafes In San Gabriel Valley
Discover more stories from Los Angeles Magazine here.