WASHINGTON -- Signature cocktails, small plates, wild game and faux taxidermy: that's how we honor Teddy Roosevelt.
Thanks to the success of Lincoln, another president-themed eatery is about to open in the nation's capital.
Take a sneak peak into Teddy & The Bully Bar
PHOTO GALLERY
Teddy & The Bully Bar
Located in Dupont Circle, Teddy & The Bully Bar features Rough Riders-inspired lighting fixtures, mounted animal skulls, paintings of the president by artist Maggie O'Neill and a rotating drink menu featuring themed cocktails like the Rough Rider Daiquiri and the Roosevelt Island Punch Bowl.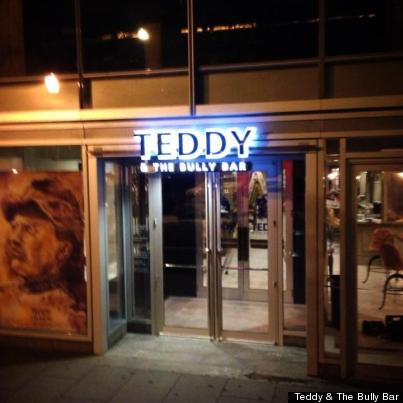 And if you'd like some oddball football with your presidential appreciation, the the 8400 square-foot restaurant features mugs, pots and jugs created by former Redskins tight end Chris Cooley. The decorative pieces are, sadly, not for sale.
Another Teddy touch: animal trophies. Teddy Roosevelt was, famously, a hunter. Paying tribute, kind of, Teddy & The Bully Bar's main dining room features (faux) taxidermy. The private dining rooms feature some actual animal skulls. A warthog, cape buffalo and scimitar oryx are on display. According to a sign in the room, the animals were not killed by humans, but were found and preserved as art pieces. We're not sure what Teddy would think of this.
Teddy & Bully Bar opens to the public on Monday, June 24.
PHOTO GALLERY
Presidential Pets