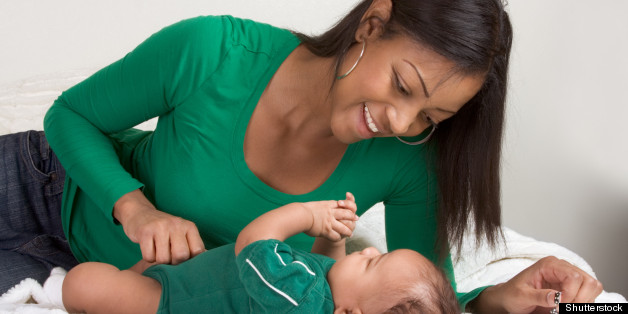 This is a teen-written article from our friends at Represent Magazine, a platform for and by young people in foster care. Represent is published by Youth Communication, a nonprofit organization that helps marginalized youth develop their full potential through reading and writing. Some names have been changed in this young author's story.
By Hollie Williams
I went into labor late on August 14, 2011. My foster mom, Mrs. Peace, my foster sisters Anita and Shanika, and a midwife were in the hospital to help me. About three hours later, on August 15, at 2:40 a.m., I gave birth to Jewelz Thomas. I was so excited to finally meet my son, whom I carried for 40 long weeks. I loved him from the moment I held him, looked into his eyes, and started to breast feed.
As I looked at my son, I thought about my mother. She died a little more than a year before Jewelz was born, from cirrhosis of the liver. The last time I saw her was Mother's Day, 2010. Her death was a devastating blow I cope with every day. But I'm striving to give my son the stability she couldn't give us.
Her alcoholism affected our family long before she died. She would run the streets at night and drink out in the cold; as a child, I'd try to get her back into the house. She couldn't hold a job or manage her finances. She would get evicted, and my four siblings and I spent some of our childhood in shelters. Still, she always praised us and told us she loved us. I miss her to this day.
On, January 2, 2001, all five kids were taken away from our mother. I was 9, my sister Leticia was 14, Emma was 11, Shanda was 6, and my little brother Noah was 4. We waited in a Children's Protective Services building in Manhattan until 11 p.m., when Shanda, Leticia and I were taken to the home of Ms. Elizabeth Ellison. Emma and Noah were placed in another home: Five was too many to keep together.
I stayed with Elizabeth for three years. It was hard for me to be away from my mother. She would call three to four times a week, and when the call ended, I felt sorrow. I worried about my mother all the time.
After several weeks, my older sister Leticia began running away, and Elizabeth decided she couldn't keep her. I was only 9. I was afraid that something would happen to Leticia. I was afraid that I was losing my family to foster care. My heart ached as I wondered if we would ever reunite again as a whole.
Unconditional Love
My mother wanted us back, but had to prove to the court that she was able to care for us. Unfortunately, she was one minute sober and the next minute relapsing.
By the time I was 13, I'd been in three foster homes. I began running away from that third home, the home of Ms. Mabel Welch, who I called mom. Ms. Welch offered to adopt my little sister Shanda and me, even though my mom's parental rights had not been terminated yet. I liked her, but I was not ready to be adopted and completely move on. It was hard to make that decision because I wanted guidance and someone who could raise me as a daughter. But adoption felt like giving up on my mom. It made me feel good to give unconditional love to my mother throughout her alcohol addiction.
I was moved again, and kept running away to see my mom. I was the queen of AWOL. Looking back, I see that what I hurt most was my education. When I was in school, I was a great student. My consistent absences, however, made me fail classes. When I returned from AWOLing, I had so much to make up. Trying to catch up on all I missed stressed me out. I started to have panic attacks.
I was also trying to cope with my emotions toward my mother, and I was angry because I wanted to be home already. The court terminated my mother's parental rights seven years after we went into care, but I couldn't accept that I'd never live with her again. I expressed my unhappiness about being in foster care by consistently running away. I guess running away was a behavior addiction caused by the instability of my life.
Preparing to Parent
I did not stop running away until I got pregnant. And even when I was pregnant I explored the option of signing out of foster care. My baby father, Mikel, and I wanted to be a team in parenting. He came to prenatal care appointments and teen Lamaze birthing classes with me. He was the one I chose as my support system for labor and delivery. He came with me to family court and agency meetings.
We decided that it was best for me to leave foster care and for the three of us to live in a family shelter together. Mikel, who was about to turn 21, was living with his aunt in Harlem, and the three of us wouldn't be able to live there. Neither of us had jobs, so we couldn't get public housing.
Click here to read the rest of the story on RepresentMag.org.
BEFORE YOU GO
PHOTO GALLERY
REAL College Advice For High School Seniors