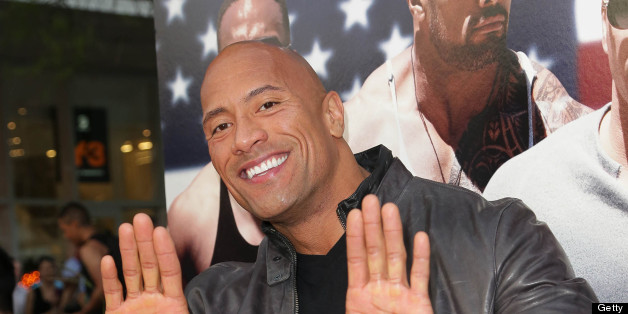 From the files of internet speculation comes this gem about Dwayne Johnson possibly starring with Arnold Schwarzenegger in the recently fast-tracked "Terminator 5." According to WWE Examiner, "one version of the script is being produced specifically for The Rock himself."
HuffPost Entertainment reached out to Johnson's representatives to confirm the WWE Examiner report about "Terminator 5"; this post will be updated with their response.
That Johnson would potentially lend his name to "Terminator 5" is hardly surprising. In the last three years, the 41-year-old star has breathed life to fledgling blockbuster series like "Fast and Furious," "The Journey to the Center of the Earth" and "G.I. Joe."
""We call him franchise Viagra," "G.I. Joe: Retaliation" director Jon M. Chu said earlier this year. "He comes in and he elevates everything, not just physically, but energy-wise."
Johnson, an avid social media user, made no mention of this "Terminator 5" report on his Twitter page. The star is currently filming "Hercules" with Brett Ratner. (Yes, Johnson is playing Hercules.)
This, of course, wouldn't be the first time The Rock and Schwarzenegger appeared together onscreen. There was also this four-second moment from "The Rundown":
For more on the rumors about Johnson and "Terminator 5," head to WWE Examiner.
[WWE Examiner via Ain't It Cool]
PHOTO GALLERY
Celebrity News & Photos