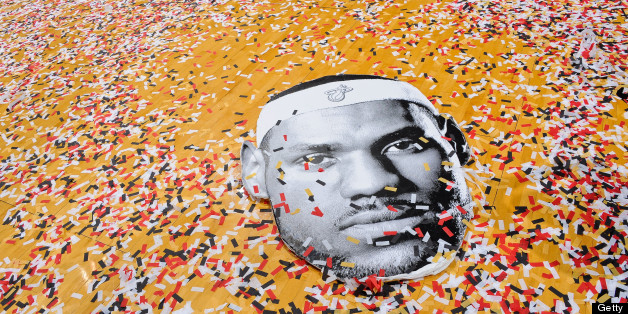 LeBron James' reputation as a big-game performer was on the line. The future of the Heat's Big Three teetered in the balance.
Game 7 of the NBA Finals was reality television of the highest order, and America tuned in at near-record levels.
Thursday's climactic showdown of the season was the second-highest rated NBA game ever on ABC with a 17.7 overnight rating, according to Nielsen.
It also drew the highest rating ever for a NBA game in the Miami-Fort Lauderdale at 44.2. The Heat's title repeat clincher over the Spurs rated 46.4 in San Antonio.
The closely contested struggle to the finals seconds made for riveting television, and the ratings reflected it. The telecast peaked at a 22.6 rating between 11:30 and 11:45 p.m.
After a slow start in generating an audience through the first four games, the back-and-forth struggle for the championship gained interest and finished with a 12.4 average rating, up 5 percent from the Heat's victory over Oklahoma City in the 2012 Finals.
Game 7 was the 37th consecutive time an NBA Finals telecast has won the night for all of television, Nielsen said. It was the 25th consecutive time it has delivered double-digit overnight ratings.
The only Finals game to rate higher was the Celtics-Lakers Game 7 in 2010, which registered 18.2.
ABC dominated the airways Thursday, and blew away the competition in the key age 18-49 demographic with a 7.1 rating and 22 share for the night. Next best was Fox at 1.4/4.
When the game tipped off at 9 p.m. the audience was estimated at 21.56 million, about four times the amount that tuned in for "Person of Interest" on CBS.
Earlier, Jimmy Kimmel Live: Game Night led all networks with a 3.2 rating for adults 18-49 and the pregame show registered a 4.5 rating, both far ahead of the competition.
The Heat's comeback victory in Game 6 was also a coup for the network. The 14.7 overnight ranked second for Game 6 telecasts on ABC.
Curiously, while tickets for Game 7 were in great demand with courtside seats reportedly going for $30,000 on the secondary market, the average resale price of $1,017 was actually lower than for Saturday's Game 5 of the NHL Stanley Cup Finals, which were averaging $1,044, according to SeatGeek.com.
The compelling struggle between the Bruins and Blackhawks, two Original Six teams, has been a big hit for NBC. Wednesday's overtime thriller, with Chicago evening the series 2-2, enabled NBC to win the night with 6.2 million viewers. The 2.2 rating for adults 18-49 was up 175 percent for the key demographic over last year's Game 4 of the Cup Finals. ___
BEFORE YOU GO
PHOTO GALLERY
2013 NBA Championship Celebration: The Fans