 Serena Williams may be the single greatest women's tennis player of all time and yet, she may still be improving.
Fresh off her second French Open title but first in more than a decade, Williams is now the reigning champ at the U.S. Open along with Wimbledon and is currently No. 1 in the world. She is also an overwhelming 1/2 favorite to win at the All England Club, per Oddsshark. Even still, all is not peachy in the Williams camp.
The 31-year-old will be embroiled in controversy entering Wimbledon after her controversial comments about the Steubenville, Ohio, rape case and Rolling Stone magazine's quotes about her body.
Williams, who recently signed on to become the new face of Delta Air Lines (who hosted a Wimbledon send-off for her at JFK), caught up with The Huffington Post over the phone to discuss why she never wants to stop playing tennis, her love of fashion and why she still gets nervous before every match.
Has your diet or nutrition changed throughout your career?
Good question. I'm definitely eating a lot more healthy, a lot more greens, doing a lot more juices. I actually love them. I also believe it's become a little bit of a trend, so people are getting the message of how to eat a lot better and just be completely comfortable with that. Yeah, I drink lots and lots of water.
What has that done for you?
Well, I'm not really sure. For me, it's about a lifestyle change. It's about being comfortable, about being happy and treating your body like a temple.
You enjoyed so much success from such an early age. Define success for you today, and has your view on it changed?
No, I don't think so. Even when I was younger, I defined success as someone that reaches their goal. If you graduate from high school and maybe nobody else in your family has ever done that, to me that's success. Or you graduate from college, or you become a doctor, or you get an 'A' on a paper. I think all those things for me define success and to each person I think it definitely varies.
You have a clothing line as well. What has being in a managerial role been like?
It's been interesting. It's been great. I actually was interviewing someone for my clothing line yesterday and I love the opportunity to be a tennis player one day and to be a boss the next day in a completely different business. I think that it's really fun and not only fun, it's something I was educated in and went to school for, and I really enjoy it.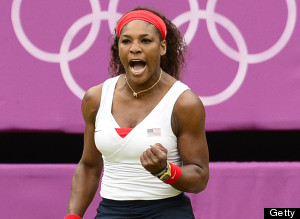 The 31-year-old Williams won gold medals in both singles and doubles (with sister Venus), during the 2012 London Games. (Getty Images)
Do you have a favorite part about playing in Grand Slams?
I enjoy just being there. Obviously my favorite part is definitely holding up the winner's trophy at the end of the tournament if I get there because it means that all the hard work and dedication, years before, months before and finally days before, it seemed to all pay off. I feel like when you have a goal and you reach it and all the hard work that you do, it just feels really good.
Do you still have nerves playing in the big matches?
Yeah, every round for me I have a little bit of nerves, but I think that's good. I think it means that I really love what I'm doing.
How much longer do you want to keep playing. Is that something you actually think about?
It's not something I think about. One of the reasons I'm able to stay well is comfort and stability. In order to have a great career, to have longevity, you can't just half do things. And I think that's been the difference in my career, is I've just had relaxing and not half doing anything.
At this stage in your career though, what is the hardest part? Is it the grind, the preparing, or perhaps maintaining such motivation?
For me, it's not knowing the finish line. I don't see one, and that's hard, because it's like I know I can't play forever, but I feel like I want to and that's the hardest part.
Do you have a specific rest schedule in terms of your sleep? Are you a big napper?
Well no, just making sure I'm really, really [comfortable when I] travel. Also, I don't take too many naps. I noticed that toward the end of the tournament I may start taking more naps. I always am focused and always trying to keep my eyes on the prize.
This interview has been edited and condensed for clarity.
Email me at jordan.schultz@huffingtonpost.com or ask me questions about anything sports-related at @Schultz_Report. Also, be sure and catch my NBC Sports Radio show, Kup and Schultz, which airs Sunday mornings from 9-12 ET, right here.