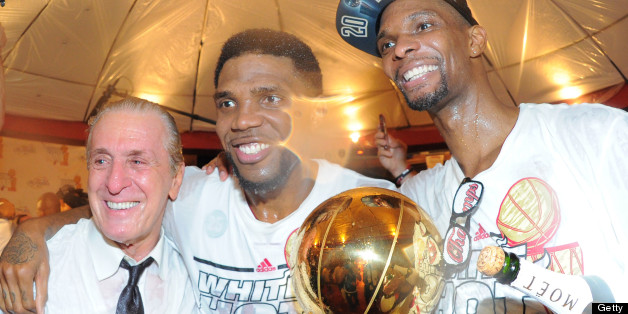 MIAMI -- Mr. 305 can now boast of being a three-time champ.
In a locker room of cigar-toting, champagne-soaked Heat players late Thursday night, many of whom celebrated winning back-to-back rings, forward Udonis Haslem grinned as he reflected on his third title in his decade-long career.
The Miami native and Dwyane Wade are the only ones to have played on all three Heat championship teams, winning the franchise's first together in 2006 and then the past two years as co-captains.
They're two of just seven active NBA players with three or more championship rings _ Kobe Bryant and Derek Fisher have five, San Antonio's Tim Duncan has four and Spurs teammates Tony Parker and Manu Ginobili each have three.
It's something Haslem, who turned 33 years old on the day the Heat won Game 2 against the Spurs, didn't envision after he left the University of Florida and played a year in France.
"I would have never guessed it," Haslem said after the Game 7 triumph. "Undrafted, going overseas, I worked, man. I gave it my heart, my soul, sacrificed. And it all just paid off. I'm thankful. I'm blessed. I'm very blessed."
He added, "I love to see my city come together. There's no more unity than when we win the championship and those people get together for that parade to cheer us on."
Haslem didn't play the role he had hoped in the final two games of the series. He saw just 1:37 of action in the deciding game _ all in the second quarter _ and his stat line featured all zeros except for two fouls. This after Coach Erik Spoelstra chose not to play Haslem at all in Game 6, a move Spoelstra deemed one of the tougher ones he's ever made.
Haslem started the first three games of the Finals, but his playing time decreased each game as he was eventually replaced in the starting lineup by swingman and former Gators roommate Mike Miller. He averaged just 1.5 points and 2.8 rebounds and 10:36 for the series after playing a pivotal role in two wins in the Eastern Conference finals against the Pacers, when he produced a pair of 8-for-9 shooting performances for 33 points combined.
Haslem averaged 5.0 points and 3.6 rebounds and 16:15 minutes per game for the 2012-13 postseason while making 19 starts.
His reduced role as the playoffs climaxed didn't matter to Haslem, though, like capturing a third title did.
"It never gets old," he said. "Each year it gets better. It's huge. It's a blessing. I'm very fortunate to be around a great group of guys and an unbelievable organization, a family atmosphere.
"We talk about team. This was the ultimate team. Each round, each game, each series, somebody else stepped up to help this team reach its ultimate goal and somebody had to sacrifice in order for that to happen. That's what we do. ... We stepped back and let somebody else take over when we needed to, we stepped up when we needed to, whatever it took to get it done."
Haslem said he appreciated his second and third titles with the Heat in a way he didn't his first when "we were young and immature, and we thought we could do it all over again every year."
Hours before Game 7, Wade reflected on his decade playing with Haslem.
"That's my brother. I'm always a fan of his. I'm a fan of Udonis as a person, and I know what he brings as a player," Wade said. "So I will always want to play with him."
Now, with back-to-back titles, which would have been a three-peat had the Heat beaten the Mavericks in the 2011 Finals, "You've got to consider us" in conversations of a dynasty, Haslem said. "We're a couple games away from being three-time (champs). We don't want to get ahead of ourselves. Dallas got one. But, every year we got better and stayed together as a team."
BEFORE YOU GO
PHOTO GALLERY
PHOTOS: Heat Celebrate NBA Title