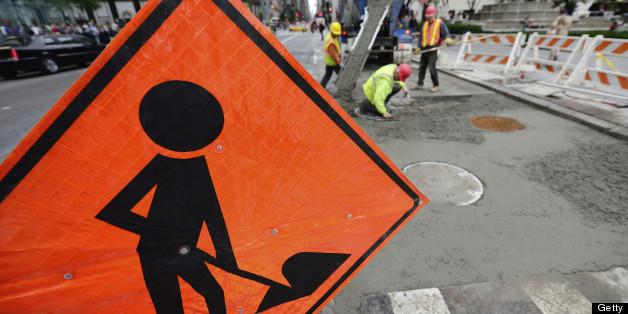 DETROIT -- The pleas of citizens and the objections of several municipal leaders weren't enough this week to derail contentious plans to widen two Metro Detroit expressways. The General Assembly of the Southeast Michigan Council of Governments voted Thursday to approve expansions of I-75 and I-94 as part of their new short-term and long-term transportation plans.
SEMCOG is a regional board made up of municipal representatives from seven Southeast Michigan counties. During their Thursday meeting, the group's general assembly decided by a 54 to 12 vote to authorize a $36 billion 2040 Regional Transportation Plan that included the expansion projects. It also approved an accompanying 2014-17 Transportation Improvement Plan. A motion by Detroit City Council Member Gary Brown to send the expressway widening provisions back to committee was defeated in a 14 to 51 vote.
The I-75 and I-94 expansions are part of a roughly $2.7 billion effort by the Michigan Department of Transportation to renovate the expressways. The roadwork would impact a 6.7 mile area of I-94 between I-96 and Connor in Detroit and an expanse of I-75 between 8 Mile and M-59 in Oakland County. SEMCOG's approval will make it easier for MDOT, which is currently taking a pay-as-you-go approach to the projects, to secure federal funding.
Opponents of the projects voiced their discontent during a boisterous rally preceding SEMCOG's afternoon meeting at the Athenium Suite Hotel in Detroit. Claire Nowak-Boyd, 29, who studies urban planning and economics at Wayne State was one of about 25 people participating in the protest.
"They're saying the I-94 expansion will save you 90 seconds [of travel time], which is a pretty marginal benefit," she told Mode Shift. "Meanwhile the neighborhoods where the highways are being built are going to bear the brunt of this."
Citizens also turned out in force to speak out at a lengthy public comment period during the meeting. Dozens voiced their opinions, including members of the Sierra Club, the Michigan Suburbs Alliance and Transportation Riders United; none favored the highway expansions. Many, like Nowak-Boyd, objected to the toll they could take on local communities.
Members of the Detroit Sound Conservancy expressed concerns that a building that once housed United Sound Systems, a studio that recorded tracks by musical legends like John Lee Hooker, Aretha Franklin, Funkadelic and The Red Hot Chili Peppers, would be destroyed by the I-94 renovation.
A teacher from Ellen Thompson Elementary, a Detroit charter school slated for partial demolition as part of the project, said news of these plans had brought many of her students to tears. Others spoke out against how the projects would remove pedestrian bridges, increase pollution, impede bicycle and pedestrian travel, and stifle economic development.
For more on SEMCOG's vote, a City Council member's objections and MDOT's response, see Modeshift: Move Together, where you can join the conversation at Detroit's online hub for all things transportation.

PHOTO GALLERY
Best Of Photos And Video In Detroit This Week