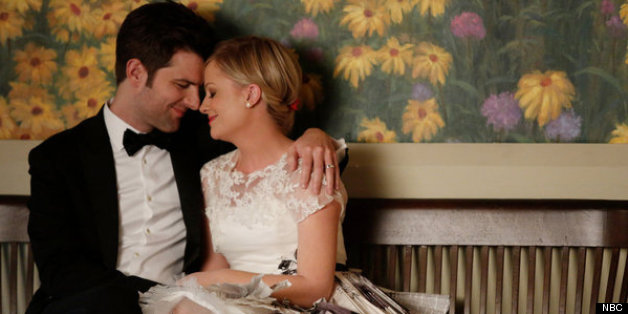 Television has been home to many beloved relationships: Lucy and Ricky, Sam and Diane, Jim and Pam and now, on "Parks and Rec," we have Ben and Leslie.
Adam Scott, who plays Ben Wyatt on "Parks and Rec," said the secret to his TV relationship with Amy Poehler, who plays Leslie Knope, is the writing.
"All along, [creator] Mike [Schur] and the writers have written [this relationship] so spot-on and so perfectly that the audience was able to go on that journey with the characters and really watch it unfold. When you do that, I don't think there's any need for sappiness. Over-sentimentality [comes] when you're trying to skip a few steps and push it along where it isn't already naturally occurring," Scott told TVLine. "Since they wrote it so well, it was just never necessary. And I'm really proud of that. I'm proud of being in this business relationship that really feels real. Amy and I also care very much for the characters and the relationship, so we also didn't want to push it where it wasn't already naturally occurring."
Scott said Poehler is the best person to work off of. "She's my favorite actress. We're good friends [in real life], and then when we have scenes together, there's just this thing that clicks. Honestly, when I see on the call sheet that we have a scene together, I still get really excited. It's always something different. It's not like we revert back to some holding pattern that we have. She always totally surprises me, and I always try to surprise her -- although I'm a much less agile performer than she is in a lot of ways. [Laughs.] We're just genuinely having a lot of fun when we're doing these scenes, no matter how short or long or serious or funny," he told TVLine.
This season on "Parks and Recreation," Ben and Leslie got engaged and then had a surprise wedding.
"It was really just to try to do something surprising that would catch people off-guard so we starting having them talk about how their wedding date was May 16 and my hope was that savvy TV viewers would go, 'Oh that must be the season finale!' and then that was all set up to try to just sneak-attack people in February," Schur told TV Guide.
"Parks and Recreation" returns Thursday, September 26 at 8 p.m. ET with a one-hour episode shot in London. Watch a supercut of the best of Ben and Leslie below.
PHOTO GALLERY
'Parks and Recreation'
BEFORE YOU GO