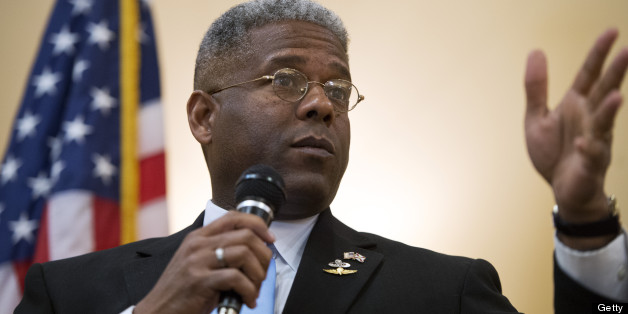 Former Rep. Allen West (R-Fla.) took to his Facebook page on Sunday to rail against President Barack Obama, suggesting that House Speaker John Boehner (R-Ohio) subpoena the president over his involvement in recent government scandals.
West, a tea party favorite, compared the recent scandals dogging the White House to the issue of sexual assault in the U.S. military.
"Recently, the entire uniformed leadership of the US Military was brought before the Senate Armed Services Committee on the subject of sexual assaults. They are being held responsible. So why isn't Obama held responsible for all the scandals and questionable actions coming from his Executive Branch," West wrote.
West listed a number of "questionable actions," including the attack on the U.S. consulate in Benghazi, the Internal Revenue Service targeting of conservative groups, and the revelations on the National Security Agency's surveillance programs.
He continued, "If I were Speaker of the House, I would make a demand on behalf of the American people, and clearly articulate that 'President Obama refuses to answer or take responsibility for various questionable actions within his administration. Therefore, as Speaker, I am issuing a subpoena for the President to appear under oath before the Government Oversight and Investigations Committee in order to respond to the disturbing actions of the Executive Branch, which he oversees and for whom he is accountable.'"
The former congressman, who lost his 2012 reelection bid after serving one term in the House, has been an outspoken critic of the Obama administration and its response to the recent wave of controversies. Earlier this month, he said he "absolutely" believes impeachment should be on the table for Obama.
"We did something that is the most heinous thing that could ever happen, we abandoned Americans while they were under attack," West said, referencing the attack in Benghazi. "You know that's right up there to ask someone, maybe you should not be the President. Guess what? Richard Nixon stepped down over breaking and entering."
(h/t Sunshine State News)
BEFORE YOU GO
PHOTO GALLERY
The World According To Allen West