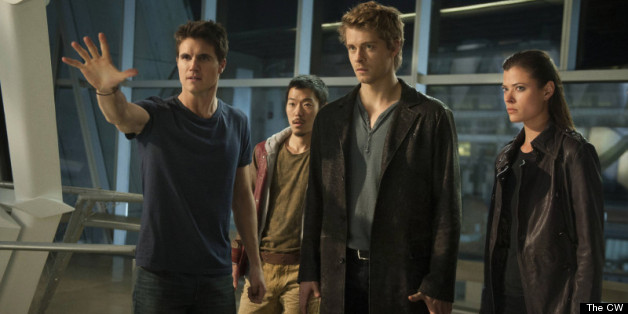 The CW is kicking off its fall 2013 a little late. The network will launch its new and returning programming beginning in October. Premieres kick off on Monday, Oct. 7 with "Hart of Dixie" at 8 p.m. ET and "Beauty and the Beast" on its new night at 9 p.m. ET.
The Amell night of TV -- "Arrow," starring Stephen Amell, and new series "The Tomorrow People," starring Robbie Amell -- begins later that week on Wednesday, Oct. 9. See what the HuffPost TV staff had to say about The CW's new fall 2013 fare here.
"Star-Crossed" and "The 100" will debut midseason. "Nikita" will also return to wrap up its run on The CW at a later date.
UPDATE: The CW has shifted some premiere dates for its fall 2013 schedule. "The Originals" will now debut on a special night and time (Thursday, Oct. 3 at 9 p.m. ET), following the bumped up season premiere of its parent series, "The Vampire Diaries." The spinoff will then move to its regularly scheduled night and time the following week on Tuesday, Oct. 8 at 8 p.m. ET, followed by the Season 9 premiere of "Supernatural," which will also now premiere a week earlier than previously announced. An encore of Episode 2 of "The Originals" will air Thurs., Oct. 10, again following "The Vampire Diaries'" second episode. Because of the new schedule, the network's Mary, Queen of Scots drama, "Reign," will now premiere on Thursday, Oct. 17 at 9 p.m. ET, a week later than originally planned.
Check out all the dates below (* indicates series premiere):
Thursday, Oct. 3
"The Vampire Diaries," 8-9 p.m. ET
*"The Originals," 9-10 p.m. ET
Monday, Oct. 7
"Hart of Dixie," 8-9 p.m. ET
"Beauty and the Beast," 9-10 p.m. ET
Tuesday, Oct. 8
"The Originals" (timeslot premiere), 8-9 p.m. ET
"Supernatural," 9-10 p.m. ET
Wednesday, Oct. 9
"Arrow," 8-9 p.m. ET
*"The Tomorrow People," 9-10 p.m. ET
Thursday, Oct. 17
*"Reign," 9-10 p.m. ET
Friday, October 25
"The Carrie Diaries," 8-9 p.m. ET
"America's Next Top Model: Guys and Girls," 9-10 p.m. ET
WANT MORE? SEE FIRST IMPRESSIONS FOR
PHOTO GALLERY
The CW's New Shows 2013-2014