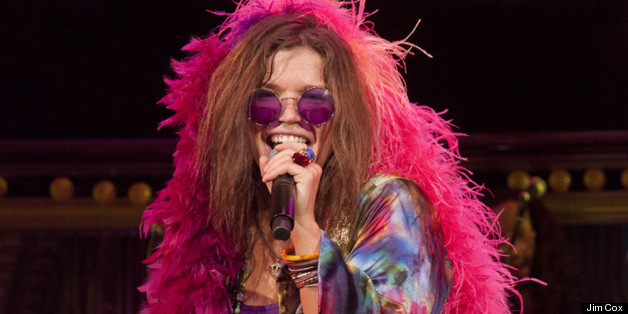 WASHINGTON -- With a voice shot through with Southern Comfort and cigarettes, Janis Joplin sounded like no one else in music during her too-brief career.
That voice, silenced in 1970 when Joplin died of a drug overdose at age 27, is back.
"One Night With Janis Joplin," at Arena Stage through August 11, tells the story of Joplin's meteoric rise from a girl born in Port Arthur, Texas, to one of the biggest stars in music history. The show, which previously ran at Arena this past fall, intertwines Joplin's tale with songs from her music inspirations, including Aretha Franklin, Bessie Smith and Etta James.
From the moment Mary Bridget Davies (as Joplin) explodes onto the stage, she puts the audience under her spell for the concert-style show. Even audience members who weren't alive when Joplin was at her peak will find themselves singing along to "Piece of My Heart" and dancing on their feet by the time Sabrina Elayne Carten as Aretha Franklin wails a pre-intermission "Spirit in the Dark."
Other musical highlights include "Cry Baby," "Me and Bobby McGee," "Summertime" (both the "Porgy and Bess" version and Joplin's interpretation) and an audience sing-along to "Mercedes Benz."
On a stage that looks more like an underground coffee shop -- mismatched lamps, Persian rugs and a few scattered liquor bottles -- than a D.C. theatre, Joplin's story comes across as the pursuit of the American dream: Grow up in a small town, move to a big city, become successful. But although she sneaks a few sips from the bottle on-stage, Joplin's chronic drug use (and eventual overdose) is entirely left out of the show.
Despite the omission -- or maybe because of it -- "One Night With Janis Joplin" may be the most fun thing going right now in Washington. For two-plus hours, it grabs you by the ears and doesn't let go until you've rocked your way out of the theatre.
PHOTO GALLERY
Janis Joplin Photos