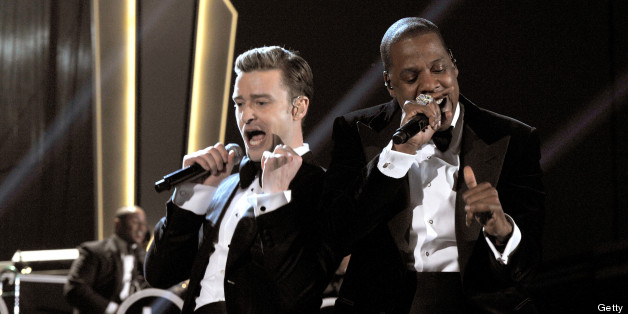 Jay-Z is teaming up with Justin Timberlake again, this time for the rapper's upcoming album. The duo recently worked together on the hit single "Suit & Tie," a cut off of Timberlake's album, "The 20/20 Experience."
Currently readying their Legends of the Summer tour, Jay-Z and Justin Timberlake have collaborated for "Holy Grail," a song featured on Jay-Z's upcoming "Magna Carta Holy Grail" album.
Jay-Z broke the news of the collaboration on Monday morning. The details were made available to users of the same Samsung Galaxy app that will allow certain users to download the album days before it hits stores.
A lyric sheet to "Holy Grail" was teased through the app, crediting Timberlake. The lyrics reference Nirvana's lyrics to the band's hit song "Smells Like Teen Spirit" with a chorus of "And we all just / entertainers / and we're stupid / and contagious."
Late Nirvana frontman Kurt Cobain's wife Courtney Love, who has the rights to Nirvana's material, told HuffPost last week that she was allowing Jay-Z to use the band's lyrics. "I'm letting Jay-Z use lyrics," Love said. "Jay-Z's huge and we're friends. I mean we're not besties or anything...."
The tracklist to "Magna Carta Holy Grail," which is set for a July 4 release, was announced this weekend. Check out the full tracklist and album art below.
"Magna Carta Holy Grail" Tracklist:
1. Picasso Baby
2. Heaven
3. Versus
4. Tom Ford
5. Beach Is Better
6. FuckWithMeYouKnowIGotIt
7. Oceans
8. F.U.T.W.
09. Part II (On The Run)
10. BBC
11. La Familia
12. Jay-Z Blue
13. Nickles & Dimes
14. Holy Grail (Bonus Track)
15. Open Letter (Bonus Track)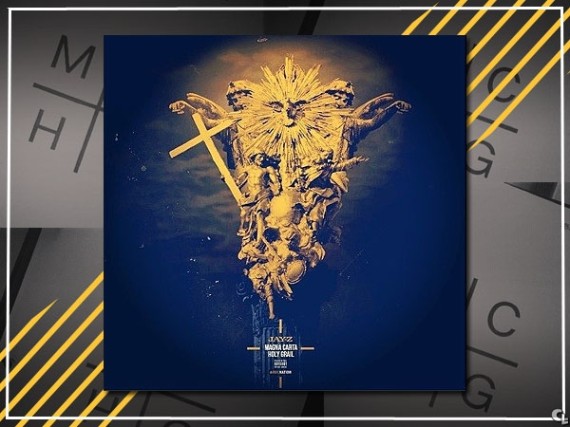 PHOTO GALLERY
Beyonce & Jay Z
BEFORE YOU GO