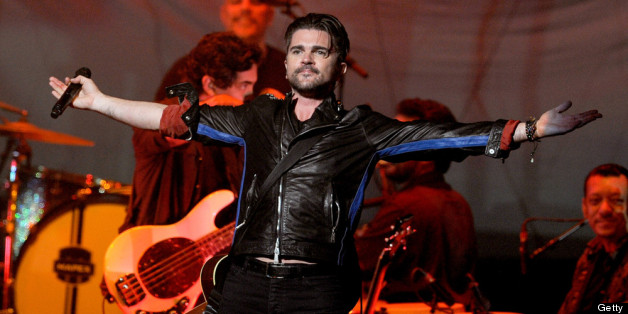 NEW YORK -- Juanes may have gone unplugged -- but his current "Loud & Unplugged" tour is being praised as electrifying.
Over the weekend, the Colombian rock star took his Grammy-winning Live album, "Juanes: MTV Unplugged," to New York City's historic Radio City Music Hall. During a media event before the concert, the singer spoke with HuffPost and other outlets about the pleasant surprises of this U.S. tour and his plans for after his final performance in Tampa, Fla. on June 30.
"The tour has been great, we've been to 20 cities, and personally I feel like I'm in the best moment of my life on stage," Juanes told HuffPost after finishing his soundcheck and a "Meet and Greet" with dozens of fans. "Singing and playing guitar and just being on stage is something I treasure very much, a lot more than before."
Named one of the "Coolest Tours" of the Summer by Entertainment Weekly, Juanes' tour has made its way across the United States with reviews praising the musician's high-powered delivery that keeps the concerts' energy "strong and loud," despite being entirely acoustic.
"My band usually has around seven people and right now it's like 30 of us, we have a wind section, back-up singers, and other instruments like the ukulele and the banjo," the 40-year-old Juanes said.
Despite the big changes on stage, the Colombian artist mentioned that the most notable difference on this tour is its audience.
"On this tour I've noticed a lot more Americans than before, for example in the concert and the Meet and Greets there are more Americans, it's something that never happened before," the artist added.
The change in his fan base is something Juanes partially attributes to his performances on English-language shows like "Dancing With The Stars," "Austin City Limits," and the Grammys. These are opportunities the artist said he is very grateful for.
"[Going on these shows is] very cool because these are spaces where usually we aren't present, it's almost always Anglo music. So the fact that they invited us to participate on these shows to sing in Spanish is like a sign of respect and also dignity to our culture," Juanes told reporters before the Radio City concert, which included both a Bob Marley cover and an homage to Colombian salsa legend Joe Arroyo.
After over four months of touring by bus, an experience the performer described as "romantic," Juanes said he planned to take a few weeks off before heading into the studio with English producer Steve Lillywhite and Café Tacuba's Emmanuel "Meme" del Real Díaz.
"There are going to be 14 songs and I'm very excited because they're songs that have my mark but show a notable evolution in [my] music," the singer told HuffPost.
Juanes will perform at the Arena Gwinnett Center in Atlanta, Ga.on Wednesday before wrapping up the tour in Florida.
BEFORE YOU GO
PHOTO GALLERY
20 Things You Didn't Know About Juanes