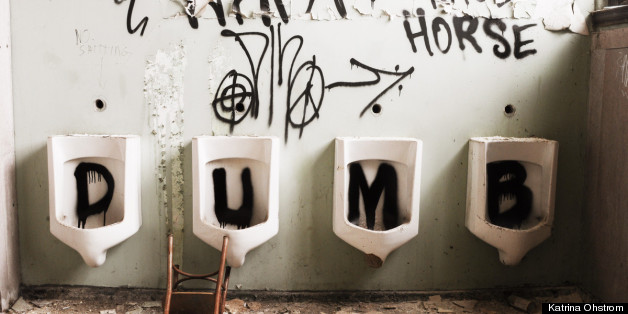 The city that Katrina Ohstrom calls home is going through a crisis –- and she is determined to document it.
After Philadelphia's School Reform Commission voted to close 23 of the city's public schools earlier this month, Ohstrom fears that public education in the city is dying, and that neighborhood schools like the ones she attended may soon become relics of the past.
With camera in hand, Ohstrom hopes make sure that even if these closed schools face abandonment and dereliction, they will not be forgotten.
SCROLL FOR PHOTOS
"Forces seem to have transpired to really rob the children of Philadelphia as well as every single person living in Philadelphia," said Ohstrom on the phone. "I feel compelled to document that."
Ohstrom has been photographing abandoned school buildings for years. Last year she began to focus on schools that had just recently been shut down. This year she extensively photographed Edward W. Bok Technical High School, one of the 23 schools that will shut their doors this summer.
Although Ohstrom had hoped to document the other 22 closing schools, the district has denied her requests for access.
Her photographs of recently closed schools show unoccupied hallways, stacked papers and dismantled computers. They are striking when compared to her photographs of abandoned schools, some of which, despite being closed only a decade ago, are entirely dilapidated.
"I think that when viewing the school photographs, that viewers are impacted by the visual of so many empty desks, library shelves, nurses offices," said Ohstrom in an email. "But even more than how they feel, I hope that people start to see these closings as a symptom of an exponentially larger problem."
Indeed, many cities around the country face a slew of public school closings. In Chicago, 49 public schools will be shuttered this summer. New York and Washington, D.C., also have school closure plans.
Ultimately, Ohstrom wants to travel to these districts.
"What's happening in Philly isn't isolated, it's happening everywhere, and it's not an accident. I would like to be able to connect the dots, to be able to document these things in a sort of cohesive way," said Ohstrom. "But I would also like to not have to do this anymore. The goal is to end this project. But I don't see that happening."
Below, we have compiled some of Ohstrom's work into a slideshow featuring abandoned schools, her photos of the recently shuttered Edward W. Bok Technical High School and photos of three other schools that were closed last summer.
What do you think of the photographs? Let us know in the comments section.
PHOTO GALLERY
Closed Philadelphia Schools