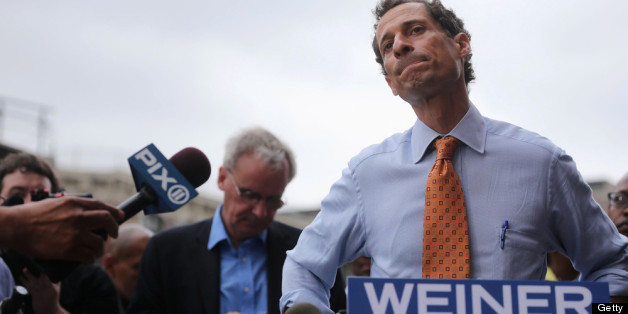 Although the women involved in the Anthony Weiner's sexting scandal are still struggling to put 'Weinergate' behind them, at least one says she'd still vote for the former congressman, given the chance.
"I cannot tell you the devastation," 42-year-old Lisa Weiss, a blackjack dealer in Nevada, told The New York Times of her life since the world learned of the lewd messages she and Weiner exchanged. "I obsess about it everyday."
In 2011, Weiss gave RadarOnline.com access to the explicit Facebook correspondence she shared with then-Representative Weiner. It was a decision she regrets. "I thought I could control it," she said of the story.
Weiss's relationship to Weiner, however, is complicated.
"So great to see you back!" she commented last year on his Facebook page next to a photo of Weiner with his wife, Huma Abedin, and their new baby. "Your wife and son are beautiful! Please let me apologize again for any pain I caused your (sic) or the beautiful Huma…it was unintentional…I still think you are our liberal hero and we need you back in politics!!"
Now she tells the Times that despite everything Weiner would still get her vote.
"If he lived here, I'd vote for him," she said. "He is such a big fighter for all of our causes."
The Times article-- which was prematurely published, removed, reconstructed by Buzzfeed, then actually published by the Times-- also checks in on four other of Weiner's sexting partners.
Weiner-- who announced his mayoral campaign last month and who is currently gaining on Democratic frontrunner Christine Quinn-- has admitted that even more lewd photos and messages could be made public.
BEFORE YOU GO
PHOTO GALLERY
2013 NYC Mayoral Candidates