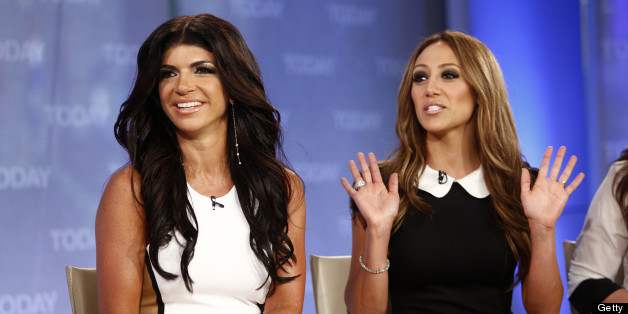 After years of screaming, drink-throwing and tabloid stories, "Real Housewives of New Jersey" is giving the Gorga/Giudice clan a happy ending ... for now.
"We do get a happy ending, which we never usually have on this show," Melissa Gorga told The Hollywood Reporter about her televised clash with sister-in-law Teresa Giudice. "It's not easy, and it's a long road."
The Gorga/Giudice drama has been the backbone of the Bravo series since the third season. There have been the occasional ups in addition to some very low downs in the familial relationship. "Real Housewives of New Jersey stars Gorga, Giudice, Caroline Manzo and Kathy Wakile, Giudice's first cousin.
"There's a lot of laughs as well, a lot of good times as well," Kathy said during a recent appearance on HuffPost Live. "[It] goes up and down throughout the season. It's not all good times; it's not all bad times. It's kind of like a roller coaster, it does a lot of ... peaks and valleys. That's family for you."
Season 5 of "Real Housewives of New Jersey" features lots of fights and screaming matches -- but also some togetherness, if the trailer is any indication.
"We are in a good spot right now and we are friends and it's genuine," Gorga said on HuffPost Live.
"Real Housewives of New Jersey" airs Sundays, 8 p.m. ET on Bravo.
PHOTO GALLERY
Summer TV Guide
BEFORE YOU GO