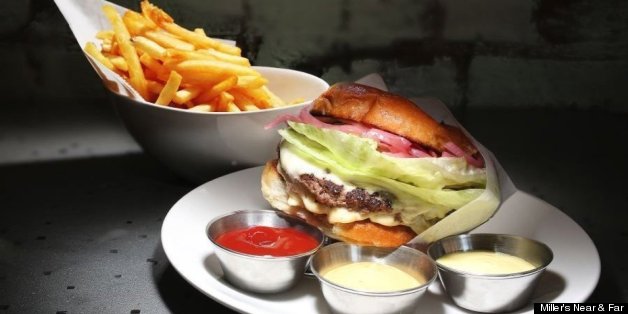 The Lower East Side has turned into something of a fratty playground for college kids, recent transplants to the city and uptowners wanting a safe taste of downtown. I was no stranger to the LES myself when I first moved to New York five years ago, but the neighborhood has changed considerably since then, to say nothing of its rapid transformation before that time. Boring boutiques have replaced quirky vintage stores and kitschy late-night spots cater to the homogenous mass of partiers that descend on the neighborhood each night. The Lower East Side has lost its edge.
Of course evolving neighborhoods are a fact of life in New York, and while I'm not a fan of the Lower East Side's metamorphosis, certain newcomers are keeping the place interesting. Despite its dizzying popularity, Mission Chinese is pushing the envelope, as are Pok Pok Phat Thai, Family Recipe, and now, Miller's Near & Far.
On May 1, Miller's Near & Far, the first solo venture of restaurateur Chris Miller, opened its doors on Rivington Street on the West side of Allen. Somewhat removed from the fray, serving seasonal, new American food in a dimly lit, narrow space, Miller's Near & Far feels like an adult oasis. Like the other restaurants Chris Miller has a hand in -- Smith and Mills, Warren 77 and Tiny's -- this one isn't quite a speakeasy, but it's obscure enough that patrons have to be in-the-know to find it. All the better to keep it protected from the nightly sh*t show across the street.
What you'll find at Miller's are fresh and seasonal takes on classic dishes. Chicken wings come piled with peppers and cilantro leaves, a vegetable risotto is one part cracked wheat and two parts vegetable -- each forkful majority crunchy asparagus and flavorful mushroom, a great surprise to me. A salad of raw collard greens topped with croutons and a slow-cooked egg replaces the kale salad we've all seen 1,000 times, and a double burger is served with pickled red onion and perfect french fries.
A dark interior, infinity mirrors on the ceiling -- perhaps embodying the "near and far?" -- and a painting of Iggy Pop on the wall may remind the older crowd of a grittier New York.
The elegance of the food and cocktails should remind this same crowd why they love today's New York, and why they're lucky to have found this hidden, new restaurant on the edge of the Lower East Side.
BEFORE YOU GO
PHOTO GALLERY
Miller's Near & Far