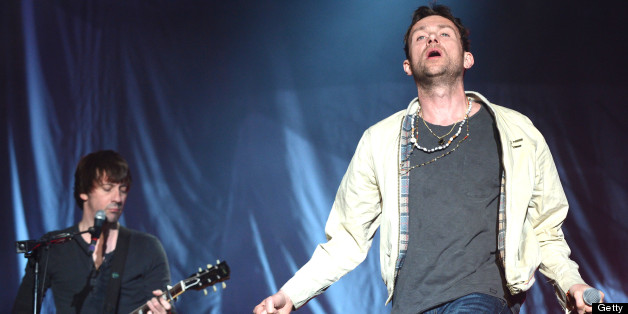 Blur may be returning to the studio. The British rock band is reportedly working on a new album -- the band's first in ten years.
Made up of Damon Albarn, Graham Coxon, Alex James, and Dave Rowntree, Blur released their last album, "Think Tank," in 2003. The band is a major force in the UK, hitting No. 1 in the country with "Think Tank" and the previous four albums.
In the years since, Blur has continued to tour and play major shows, including headlining this year's Coachella Music Festival, all while fielding questions as to when the band will release new music.
Earlier this year, Albarn hinted that a new album may be recorded this summer while the band tours. "We've got a couple of occasions when we're stuck in the middle of nowhere," he told Rolling Stone. "So we might make the record in a week. If we can, it would be nice."
Jamie Hewlett, who works with Albarn on the band Gorillaz, recently confirmed that Blur is recording. "Damon's touring with Blur -- hes doing a world tour with Blur at the moment and then they're working on a new album," Hewlett told fans at a press event.
Blur may have already recorded the album as Albarn told the crowd at a recent Hong Kong show, "So we have a week in Hong Kong, and we thought it would be a good time to try and record another record."
Playing shows across the world, throughout the summer, Blur has yet to announce when fans can expect a new album.
PHOTO GALLERY
Quirky Band Names At Coachella
BEFORE YOU GO