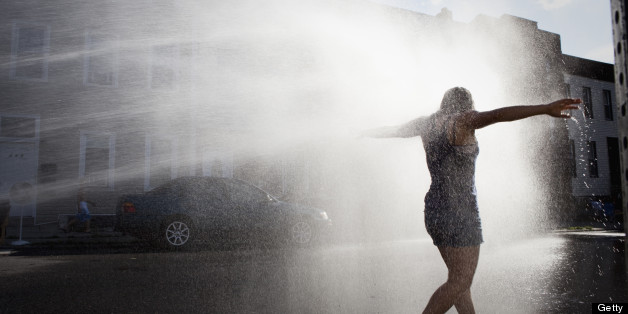 By DNAinfo Staff
NEW YORK CITY — Temperatures soared to 90 degrees on Monday, as New Yorkers looked for ways to keep cool in the concrete jungle.
In East Harlem, locals beat the summer's stifling heat at fire hydrants opened up by the FDNY.
Tony Leon, 30, who lives in the neighborhood, was surprised to find a hydrant trickling water onto 118th Street between Second and Third Avenues.
"It's the first time they've done this in three years," said Leon, who usually cools off at the park with his 2-year-daughter and wife, Yuki DeLeon, 33. Oppressive humidity and high temperatures are expected Monday, Tuesday and possibly Wednesday.
Water gushed from another hydrant, just a block away, reaching a height of about eight feet and leaving the street and passing cars soaked.
Iyana Hernandez, 33, who stood by the hydrant with her 9-year-old daughter Anaya, said her three children enjoy taking long baths and playing in sprinklers during hot summer days.
"We're managing without AC," she said. "We just bought mosquito screens for the windows. "
Ricardo Rodriguez, 66, who lives in the Bronx, is battling the summer without air conditioning, he said.
"They should open more of these," said Rodriguez, taking water from the 118th Street hydrant. "I'm from a tropical country and when it's hot it's hot. We just deal with it."
Sweat-soaked New Yorkers will have to trudge through 87 percent humidity on Monday and 75 percent on Wednesday.
A heat advisory is in effect across the boroughs until 6 p.m. Tuesday, according to the National Weather Service.
Isolated thunderstorms could come in the afternoon, possibly into the evening, on all three days, according to the service.
The reprieve won't come until Thursday, when the temperature is expected to hit just 83 degrees, according to the service.
The Monday and Tuesday temps still fall short of the June 24 all-time high of 96 and the June 25 record of 99 degrees, according to the NWS.
The unpleasant conditions stem from a warm-air buildup coming in from the southwest, a service spokesman said.
New Yorkers are urged to take precautions to prevent heat-related illnesses, particularly seniors and those with chronic heath problems, acording to the Office of Emergency Management and the Deparment of Health and Mental Hygiene.
City residents are advised to stay in air-conditioned rooms, drink lots of fluids and go to cooling centers, if necessary, to beat the heat.
City cooling centers will be open June 24 and June 25. To find your local center, click here.
An air quality health advisory for ozone pollution has also been issued for June 24 from 11 a.m. to 11 p.m., according to the State Department of Environmental Conservation and the State Department of Health.
BEFORE YOU GO
PHOTO GALLERY
Cooling Off In NYC Fire Hydrants