Updated story
A security guard at a suburban Chicago jewelry store shot a would-be robber attempting to smash a display case with a sledgehammer Sunday afternoon.
Oak Brook police say three men entered the C.D. Peacock jewelry store around 3:41 p.m. Sunday with one of the men taking to a display case with the sledgehammer. The Sun-Times reports an armed security guard shot the man with the sledgehammer once in the abdomen prompting the two accomplices to flee.
None of the roughly 16 employees and customers in the store were injured, though the robbery suspect was taken to an area hospital for treatment where he remains in custody.
The two other men immediately fled the store escaping in a black Jeep Liberty stolen from a mall employee in the parking lot, according to CBS Chicago.
Police on Monday released an image taken of the missing suspects from surveillance camera inside the jewelry store: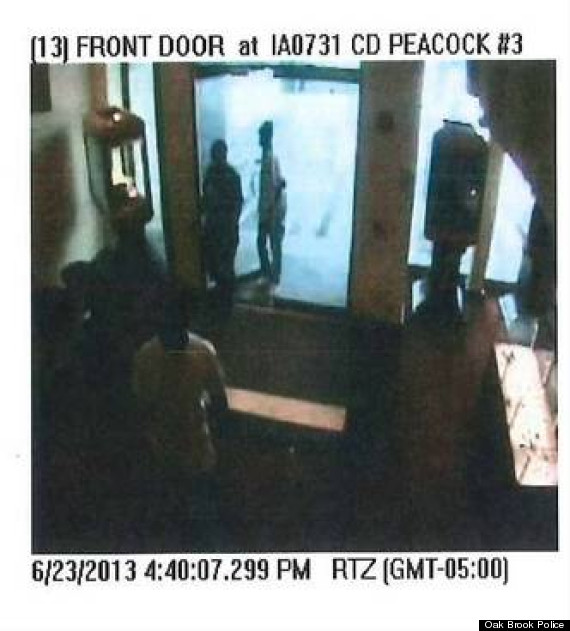 The 911 call reported an "active shooter," prompting the upscale Oakbrook Center mall to go on temporary lockdown.
"I was just coming down the escalator from Starbucks and there are all of these cops coming down with giant guns," one mall customer told ABC Chicago.
Shoppers at the mall recounted a scene of fear and confusion after seeing police enter the mall, while the Tribune reports the upscale shopping destination put its PR team into damage-control mode, downplaying the incident by preventing reporters from interviewing shoppers affected by the lockdown and banishing media trucks to a remote parking lot.
According to the Daily Herald, authorities have issued a description of the suspects: "two black males in their late 20s or early 30s. The first man is described as heavyset, 5 feet 9 inches tall and 230 pounds with a tattoo on the right side of his neck and wearing black T-shirt. The second man is 5 feet 11 inches tall and 160 pounds with a heavy beard and wearing a white T-shirt."
Anyone with information is being urged to call police at 630-368-8760.
BEFORE YOU GO
PHOTO GALLERY
11 Of The Dumbest Criminals Ever (PHOTOS)