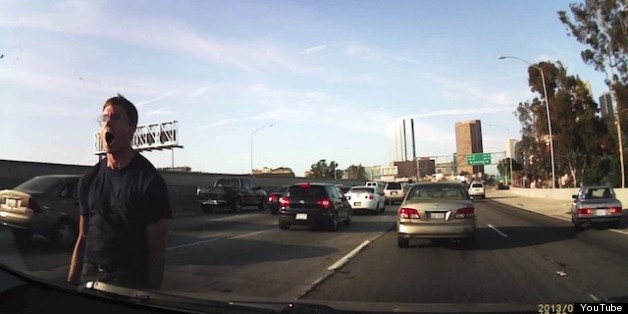 Commuters know road rage all too well, but one man in Los Angeles, Calif. elevated the term to a whole new level last week.
Reddit user affirmativeuncertain posted a dash-cam video of an extreme road rage incident Sunday. He explains that the violent episode took place Friday on the 10 East and 110 North freeways in LA. Scroll down for the graphic video below.
He wrote that a wild driver with an Illinois license plate was "cutting people off and driving recklessly. He then pulled up alongside me, saw that I was asian, and started to target me."
The video shows the wild driver slamming his brakes in front of affirmativeuncertain, cutting off other cars and hanging out of the window to shout at the victim. The aggressor also threw drinks at affirmativeuncertain three times during the video: at 1:55, 2:27 and 6:56.
At the end of the footage, the driver got out of the car and walked down the middle of the freeway to scream at affirmativeuncertain face-to-face.
The man was shouting "the usual asian insults," wrote affirmativeuncertain. "It made me sad how unoriginal they were."
Because the video dialogue isn't audible, affirmativeuncertain told local news site LAist that the man shouted, "Go back to Asia," "F*ck you, Asian," "I'll f*ck you up" and "Get out and fight me."
The video records the victim calling 911 and reporting the incident while it was occurring. He wrote on Reddit that he has since contacted local news outlets, the LAPD and California Highway Patrol. As of Sunday, he had not heard back from the LAPD or CHP yet, he wrote.
"I wouldn't be surprised if he was on drugs," the victim wrote on Reddit. "I have never experienced this much hatred from anyone in my life."
WARNING - VIDEO CONTAINS GRAPHIC LANGUAGE:
BEFORE YOU GO
PHOTO GALLERY
Bad Choices